Remember that episode where Lucy and Ethel try to keep up with the chocolates whizzing past on a factory conveyor belt? That's pretty much been my last week or two. Only it's writing projects and where the hell is my chocolate? Anyway, I'm back. ish.
Spring is finally here in New England. I can tell because rocks and dried concrete bits are sprouting up everywhere in our otherwise desolate yard…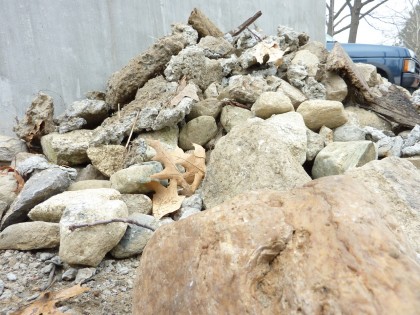 I've been digging them up and lugging them to the curb where, hopefully, we can eventually haul them away. We're amassing quite the pile. Better to have them out of the way before we put in the rest of the hardscaping and the beds.
In the next few weeks I need to have the yard ready for final grading and topping off with some high-quality screened loam — ideally with compost mixed in. Where are our soil test results?!
Shiva has ordered our plants for the front slope, so we need to be ready for those to go in in early April. Maybe I should just quit my factory job and deal with everything that needs to happen between now and then, eh? *sigh*