Talk about dragging things out. November and we're still talking patios! Here's where we left off: on the fence about poured concrete, our ideal scenario, so we've been considering other options.
Our poured concrete layout looked like this (click to biggify)…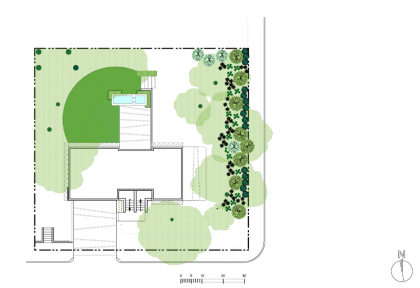 Finished, those concrete sections would have looked kinda like this (but running parallel to the house)…
Too bad that's not gonna work out moneywise. Waah.
Option 1 : concrete pavers
So if poured concrete is out, what's the next best thing? Concrete pavers? We looked into a few sources after eliminating Lowe's and Home Depot.  Stepstone, Inc. makes what I think are the best-looking concrete pavers by far…
The October Dwell features an article on the remod of the mag founder's first home.  Lots of great images of Stepstone pavers on their back patio. Beautiful. They're made in Cali. On the phone, their people were very helpful. Drawbacks: Several week lead-time. Shipping. Not cheap. And honestly, I'm still hooked on having pavers set into gravel or grass, in which case these wouldn't work — they're designed with a mortarless spacer system that requires them to be butted up against each other.
Looking for a concrete paver alternative closer to home, David came across Bolduc in Canada. We liked the look of Avenue…
Commercial rather than residential, which didn't deter us. Cheaper than Stepstone. Comes in several shades of grey. The folks at Southridge Farm and Nursery in Walpole ordered some samples for us. They look like this…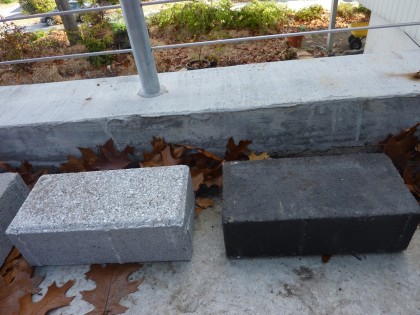 They come in larger sizes. Good. Beveled edges. Icky. Overall, too, um, municipal looking? The top side of the dark option looks like poured asphalt. Not a look we're going for. Shazam.
Option 2: stone
Okay, so if those pavers are out, what next? Stone? We automatically ruled out stone because it has to cost more. Doesn't it? Turns out that bluestone or granite run about the same cost or even cheaper than the Bolduc pavers. Wow. Okay, so that sounds encouraging.
New layout options: squares
So what about layout now that the trapezoid look is a no-go? The square grid layout looks great but it's a no for us, whether they're set in pea gravel…
or set in grass…
Squares are perfect when the architecture is boxy like that. Not so much for our situation. David and I don't always agree about everything but we do agree that a long, linear layout goes better with our long, linear house. Strips set parallel to the house would lead the eye out toward the low pool at the end.
New layout options: rectangular strips
Imagine strips of stone set in pea gravel. Either uniform strips…
Or staggered strips…
I can also picture strips of stone set in grass…
Decisions, decisions. We'll be working out patio configurations this week so that we can get this party started.
Pool options
Then there's also the matter of the pool. David was set on an above-ground water feature so that people could sit on the edge. Something akin to this…
Not impossible to create such a thing but it's a little more expensive. I'm not budging on my desire for steps across the pool to the patio, either way. Luckily, David is now open to an in-ground pond…
The stones in the pond are kind of nice. Of course, both of those examples are concrete edge and not stone, so the look would probably be more like this…
Sounds like poured concrete may not be in the pond picture now. Pool liner? Oy. Our neverending story… everybody sing!
Want even more?
Reference previous patio and pool obsessiveness at total yard-on for hardscape.