So what's up down? Well, David and Joe have been busy since their last round of ceiling-up-putting with final prep for closing up the walls and ceiling.  Tell us all about it, David…
——————————————————————————————-
The hallway got its energy-efficient, eco-conscious makeover. Now fully denimated and insulated…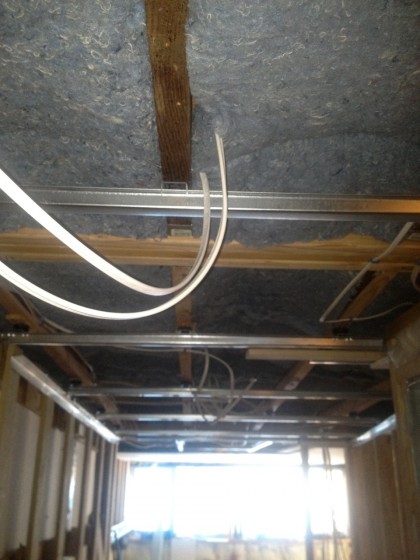 That ridiculously frigid storage area under the stairs got the same treatment…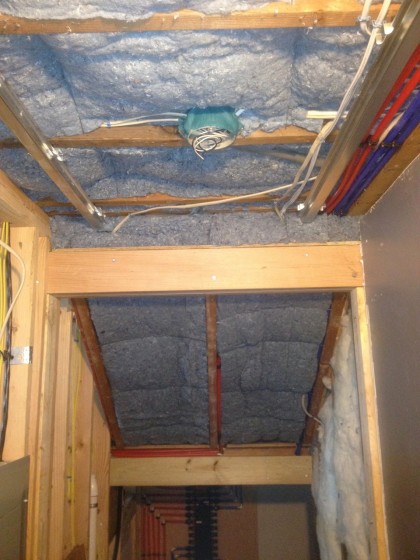 And the bathroom will now be much warmer and cozier, too…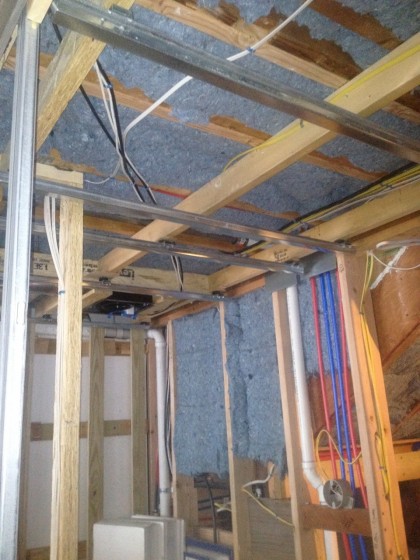 Including the shower…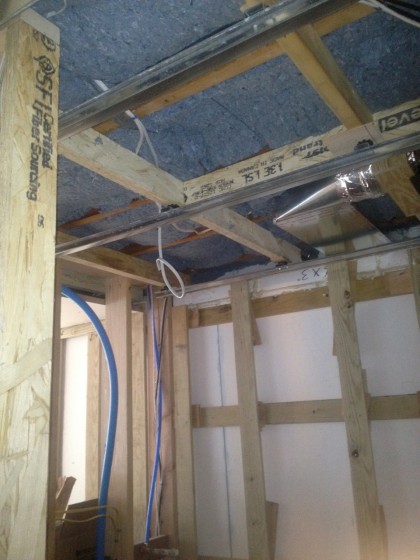 [The concrete foundation wall was insulated earlier with 3″ EPS — the floor was also insulated, so it will definitely be more snug in here even after we tile. Gyp board (sheetrock) is the next step.]
Our electrician got all the new wiring roughed in downstairs — we passed inspection, which is why Joe and I are able to button things up. Our old electrical panel was code-compliant in 1971 but had since become outdated with a grounding system no longer acceptable. So we now have a nice shiny new 100-amp box.
All electrical boxes and ceiling lights are getting special soundproofing. Heavy putty pads are wrapped around them which block air (and noise) from getting through all the little holes and openings. The pads also add mass to the boxes so they won't vibrate and transmit sound…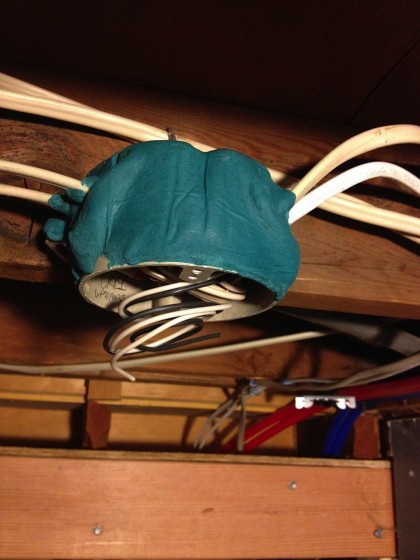 This thing that looks like a boring old light is actually going to become a smoke and CO2 detector…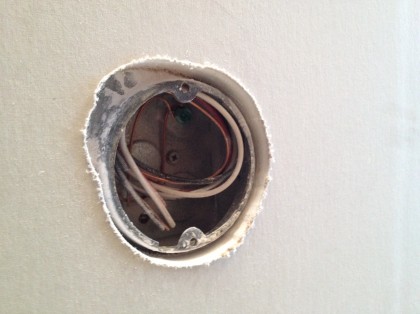 To complete the soundproofing, the gap between the detector's electrical box and ceiling gyp board will be filled with non-hardening acoustical caulk. The box itself will be wired to another one by the upstairs bedrooms and to a heat sensor in the garage. If one unit is triggered all three will sound the alarm, giving us the best chance to get out and get the fire department here.
All pipe and wire penetrations are getting sealed against air and noise passage as well as against fire. Special fire-rated caulk first, then expanding foam where appropriate…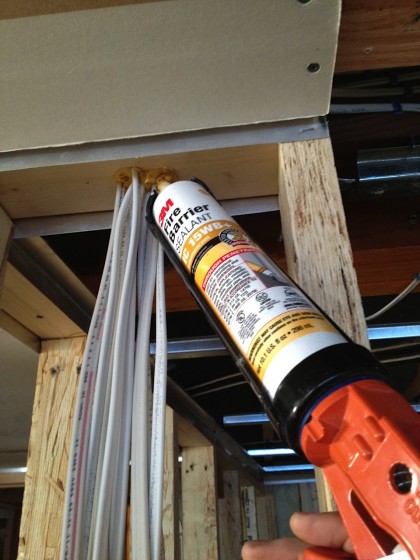 Last minute additions to the A/V network: more smurf tube. One run from the desk area to the stereo cabinet to get digital music from the computer to the DAC, and a video cable to allow use of the TV as a monitor. Mmmmmm,  50" internets…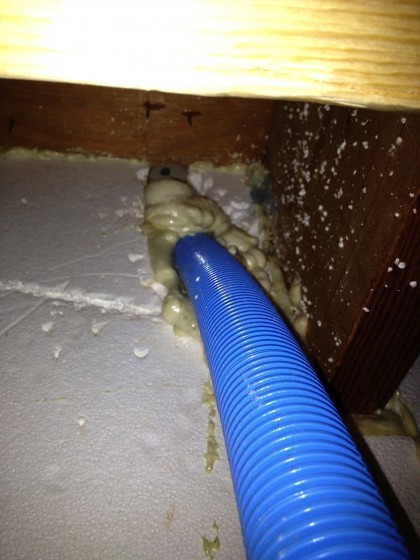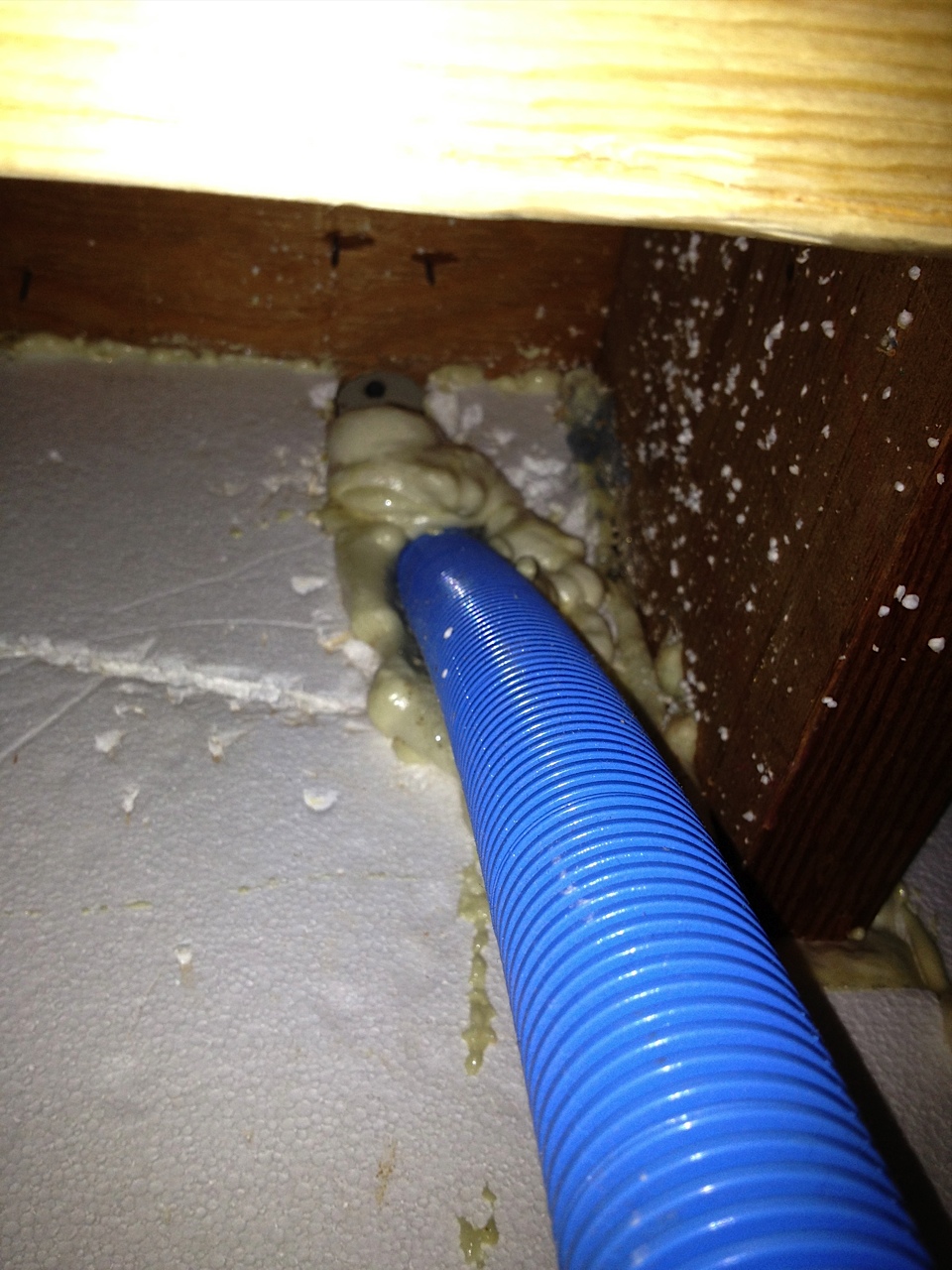 The other run goes from behind the TV to the future home of the upstairs stereo to allow for AM/FM and TV signal wires…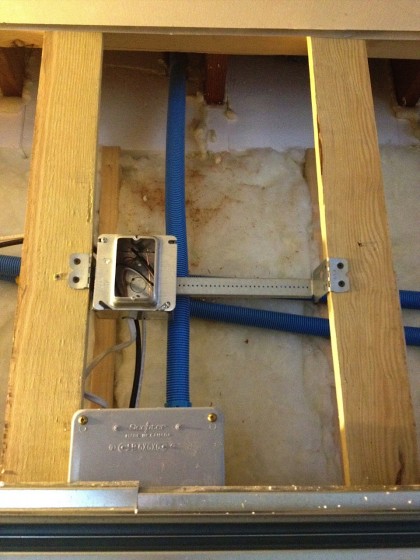 Someday soon we're going to put antennas on the roof. That way we'll be able to pull in distant radio stations and if the cable ever goes out we'll still be able to get local TV channels.
Tags: energy efficiency, insulation, remodel