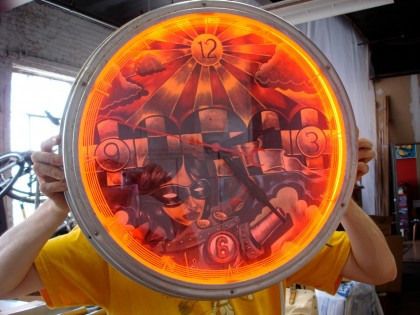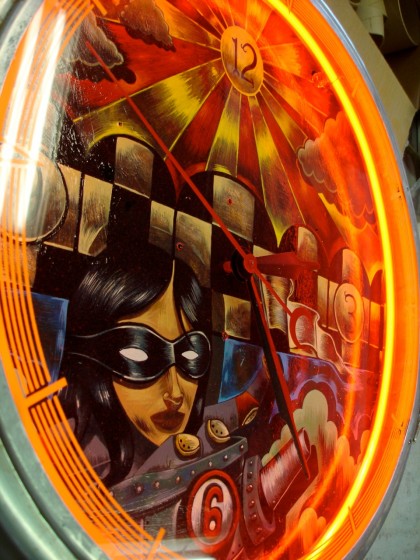 What is it? Minty vintage aluminum clock with painting we commissioned from John Dee.
Where did it come from? David and I came across the clock in the dusty corner of a stripmall antique store in Pueblo, Colorado, ages ago. The tag said $25. Sold! Spun aluminum case, un-dinged (finally got all the paint off). Original glass with pinstripes, unscratched. Hands and clocky bits, working. The face had some awful lunchmeat promo on it, sloppily hand-painted right over the top of what was probably a great Chevy bow-tie sign. It was begging to be stripped, so I did.
Had the neon replaced. Mmmmm, glowy. Then it sat in the corner of our loft until I asked John if he'd  throw his paint voodoo on it. Now it sits dark and unplugged in the corner of our house longing for a wall.
Circa? Unsure. Guessing the '40s or '50s.
Interesting tidbit: John Dee is a UI artist and illustrator at Harmonix working on games like RockBand and, well, probably all their other titles as well. His paintings make me smile. More here.