Now that the cable railing is finito, we can move on to our next project: upper and lower patios. It does sound extravagant to have two, doesn't it? But with a two-level house built into a hillside, we have two separate entries that need to step out onto something better than what we have now. Take a look…
UPPER PATIO Crushed stone in place since the Savages set it down in April awaits the concrete pads we have in mind. Once pads are poured, the patio will be level with the top of the retaining wall and we'll have plenty of room for entertaining…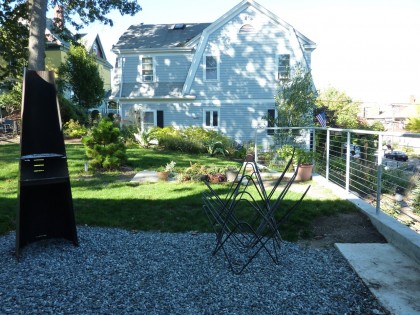 Wondering what the heck I mean by concrete pads? Remember this image that I showed you a few months back?
See how the concrete is cut into angles with grass in between? Yeah. Like that. Our first choice for patios is something akin to that only set into pea gravel. It would tie in nicely with the architecture of the house, which is very angular on the front face…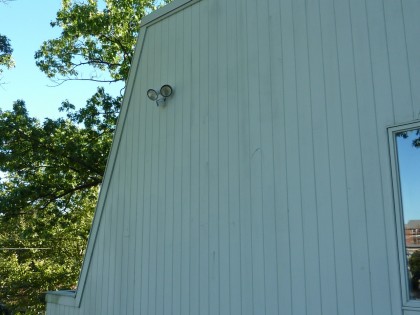 LOWER PATIO This shot is from April before landscaping improvements began, but it still basically consists of completely inhospitable sharp-edged gravel. Yucky…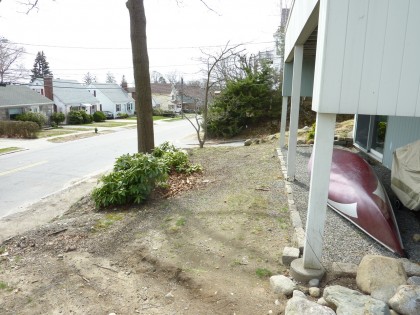 We're envisioning the patio coming out from beneath the deck and into the pathway. As you can see, privacy is an issue…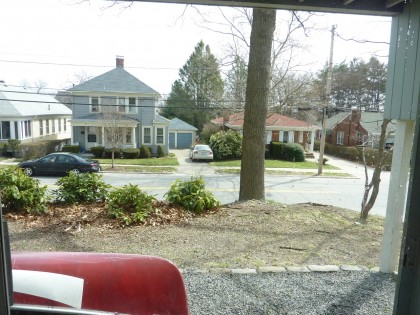 Thankfully, landscaping will continue to change that — more on that later. Suffice it to say that we come out this door a lot, as will our guests (assuming we ever have a house fit for guests), and we're eager for it to change.
Months ago we created a patio plan so we could work the landscaping around it. Our buddy Shiva helped turn from scribble to jpg (click to biggify)…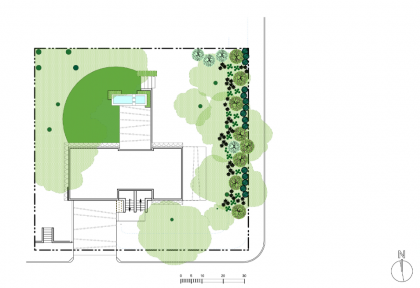 You can see in the original plan that the lower patio extended the length of the deck. We decided to cut that to half, hoping it would save a little money. The long rectangle at the top of the upper patio is a very low, shallow reflecting pool with an 8″ concrete foundation. Minimal. Kind of like this…
I've shared this and other examples previously. Really, really want that to happen.
Our last meeting with Tom Zilian of MadStone Concrete sounded promising. We met again with him and it still sounded promising, so David whipped up exact measurements…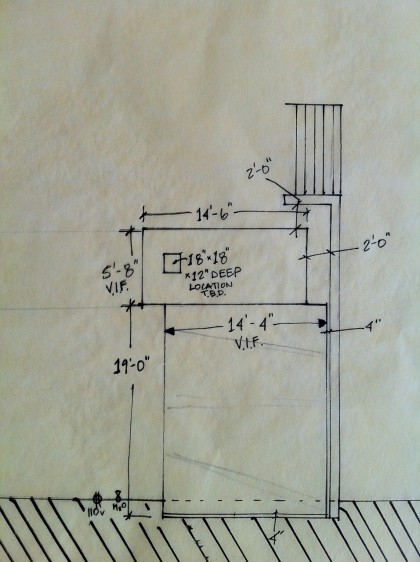 Then we got the quote. And now we're on the fence. Am sure the final product, after a laborious process of prepping the site, framing and pouring the pads, 10-day curing, sanding and sealing, would be exactly as we envisioned. Heck, probably better. The question is can we suck it up and just sink the money into patios when we have a whole house remod kicking off in the next few weeks? Argh.