February 22nd, 2011. My year-old Cavern Blackbird wallpaper got torn down as the downstairs remodel officially got underway…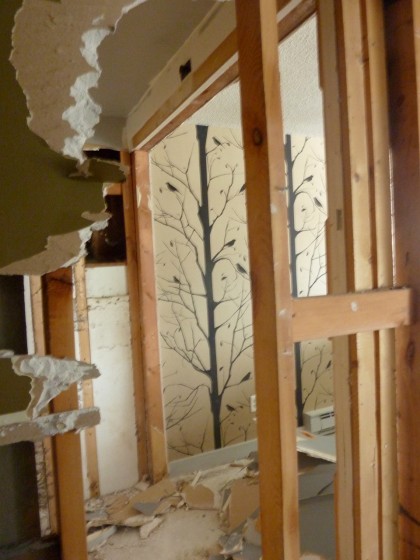 So I guess installing it was a little premature. But how was I to know David would decide to insulate the wall? Erf.
My plan all along has been to replace it with the same wallpaper. I liked that it was screened onto actual kraft paper. Nice texture and a strong graphic. Plus I really wanted to bring a little of the outside into that dark space. But it turns out they've changed the paper. I do not like the sample. Blech.
Rethinking is necessary.
While in L.A., I dropped by Walnut Wallpaper (across the street from Heath Ceramics, yum)…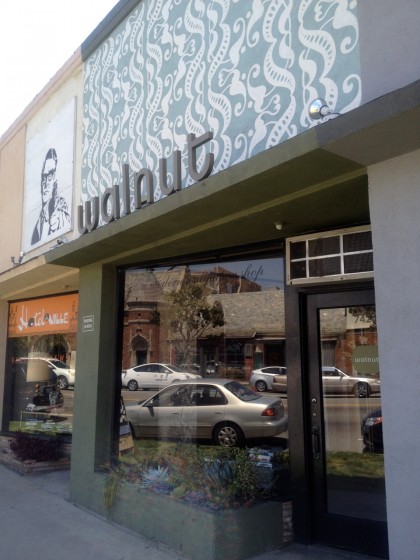 I've stalked their site for years, so I had a good idea of what was inside. Rack after rack of oohs and aahs…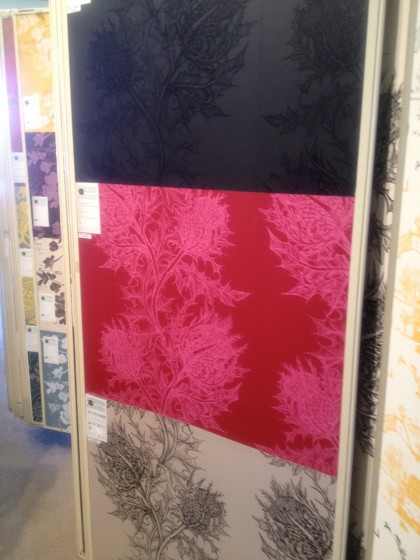 I was seriously tempted by that black on black. But I decided the straight rows of mirror-image thistle that Walnut had on one of their own walls felt a little too formal. What gorgeous illustration, though…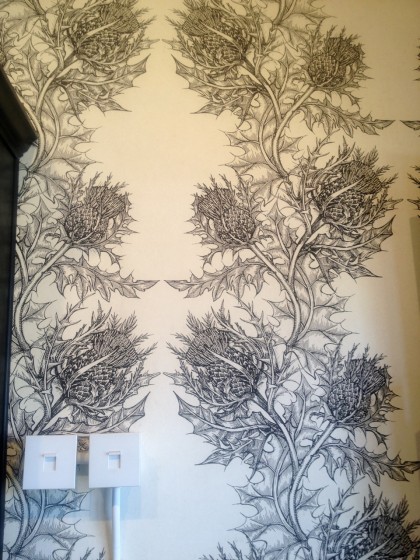 Back in Providence, I ordered scads of wallpaper samples to hold up to our crazy new Mustard Olive paint — which is looking particularly bright in the light here…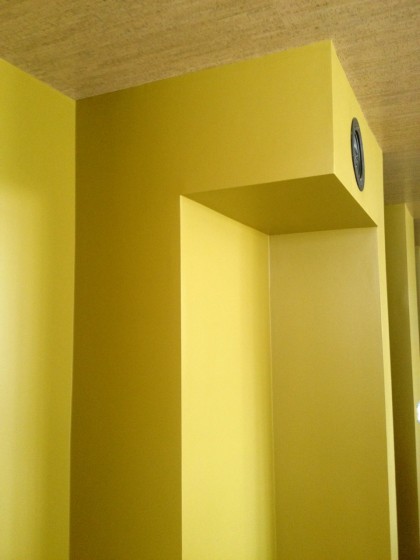 Below are shots of my wallpaper samples (rollover images for name) — believe me, I know, wallpaper is such a personal thing. You may hate all of these but these are the ones I thought might work. Unfortunately, my multiple personalities are showing and I can't decide which one wins.
One last thing: this room is the fun room. Movies will be watched here. Games will be played here. Records will be listened to here. The wet bar will get much use. And upon occasion, guests will sleep here. I'd like to think of it as a really awesome boutique hotel room with a 7-year-old on the couch.
Oh, and for better images of these and more, pop up my Pinterest wallpaper page.
NATURE
Disclaimer on the first two wallpapers: I couldn't capture the true black of the paper. They read a lot darker in person and look pretty great. My Pinterest link has more realistic images.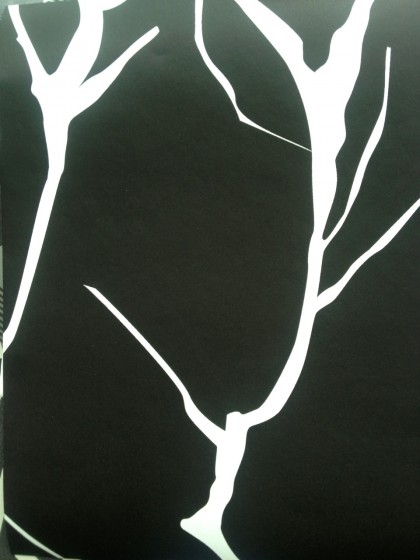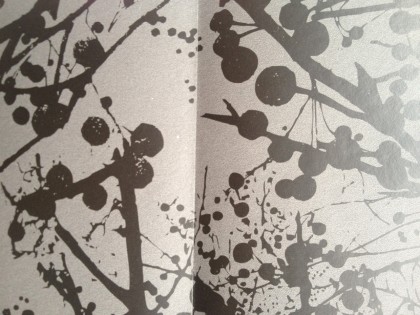 GEOMETRIC
Wallpaper + math = love.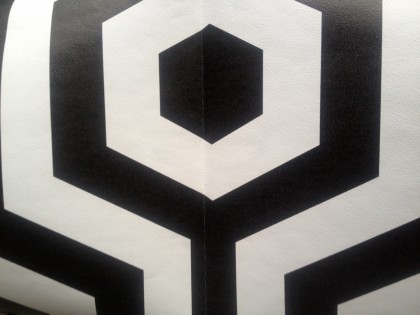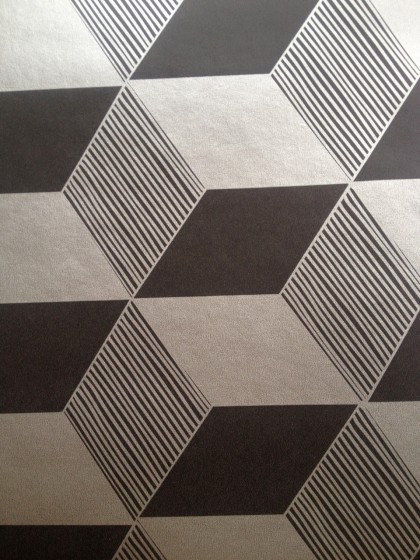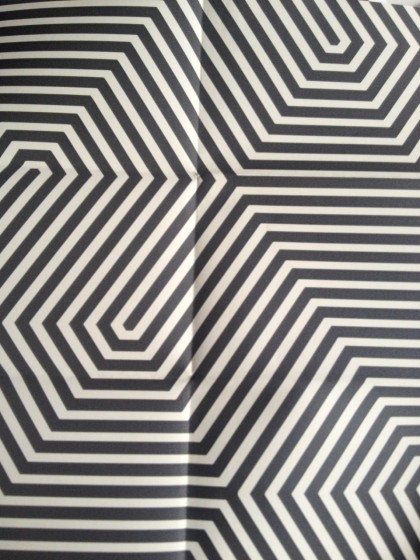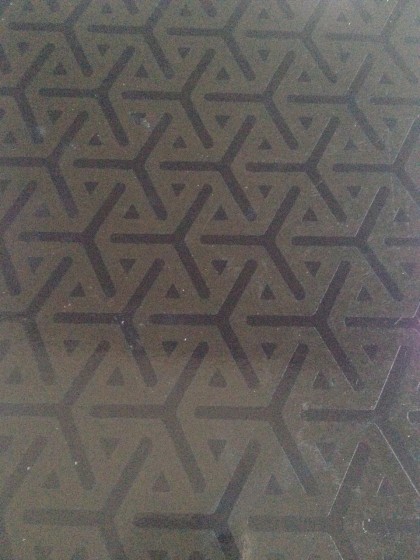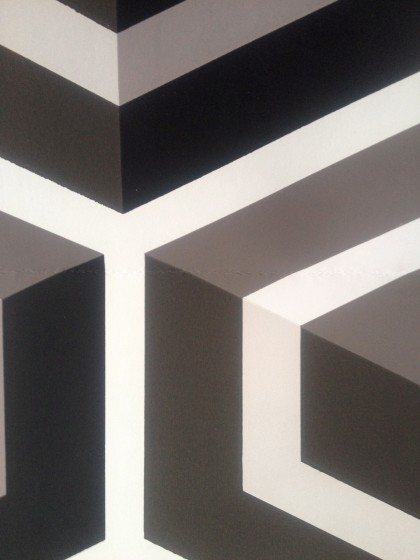 This one may be overkill but I couldn't resist sending your brain into spasms. (Be sure to see the larger image via Pinterest.)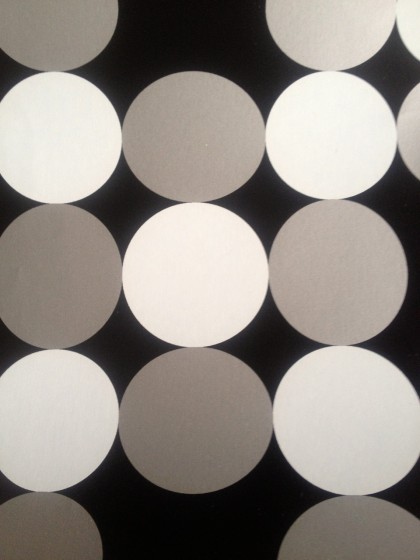 FUN
Because I am a geek, I confess that this may be my favorite of the bunch…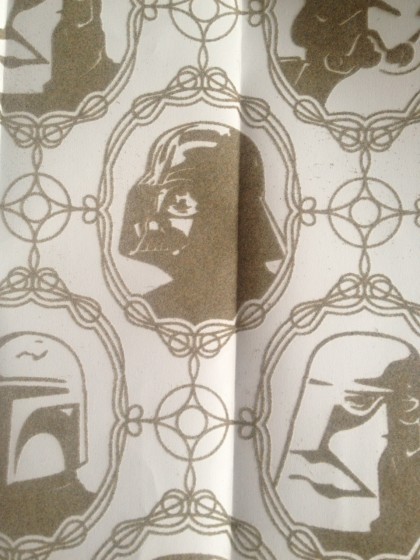 No, really! Imperial Forces, launched at the end of last year. Here's a larger sheet at Walnut. Go ahead, gawk…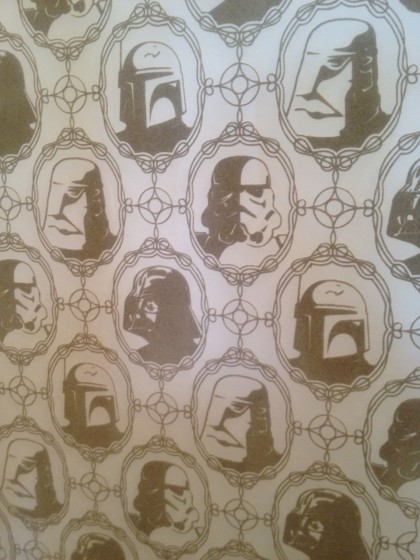 Did I mention it's flocked? Flocked! The TV is going to be on top of whatever paper we choose, so this might be a fitting choice.
However, I have not decided. A black wall would look fabulous, certainly, but is it too serious? David says geometrics will be distracting — like anyone's going to look past the television, right. Is Star Wars too fun? I just can't decide and I need to order paper right away. Tell me what you think.