Exactly 14 years ago today, the huz and I shared our first smooch in the parking lot of the long-gone Silver Top Diner. One year later, in January of '98, I convinced my good friend Jennifer Uhrhane to commemorate the spot in a photo. I have vivid memories of holding the tripod steady in a wicked Arctic wind. It was just after midnight and 10 degrees. Jen was a trooper…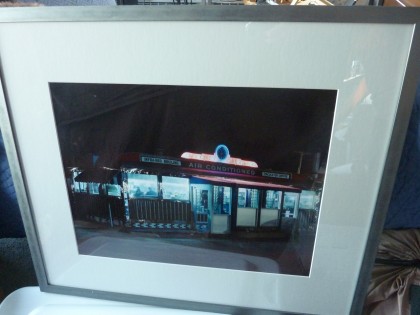 The photo turned out great (considerably better than my craptastic photo of it, reflecting everything in the room). It was my Valentine's Day gift to David to mark our one year anniversary.
After the Silver Top was forced out in March 2002, David and our friend John nabbed several signs for my birthday. Such nice boys…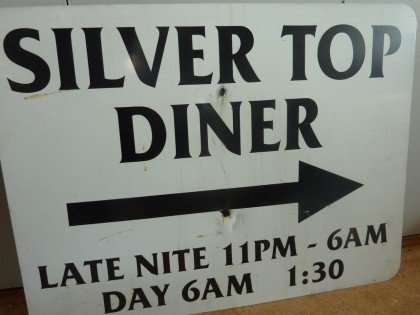 Too bad about the diner. It was crowded on a regular basis. According to the Providence Preservation Society…
The Silver Top Diner was built by Kullman Diner Company of Harrison, New Jersy in 1937. At the height of its activity, the Silver Top was one of several small restaurants and one of only two dining cars flourishing amidst the then vibrant industry of Harris Avenue and the surrounding downtown. Open 24 hours a day, the diner catered to local factory workers who frequented its counter on their way home from the exhausting third shift.
Thanks for the awesome memories, Jen! btw, you should see Jen's photography. Beautiful, beautiful stuff. Happy Valentine's Day, everyone!