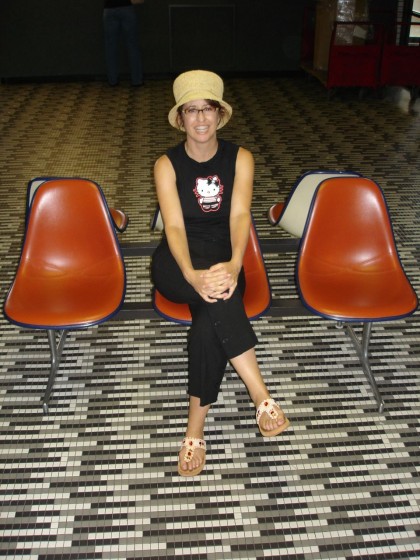 This is not about me, it's about the tile. The glorious, glorious vintage tile. Doesn't it look fantastic with the bright orange seats? That pattern makes me ridiculously giddy.
Where: Peoria International Airport
When: The terminal was dedicated in 1942, so there's a chance it dates to then. Not really sure. Just read they're expanding. I hope they don't touch the tile!
Why: On our first trip to the Bix Biederbecke Memorial Jazz Festival and its companion Bix 7 race in Davenport, Iowa, in 2005. Every year about 15,000 come for the music and more than 20,000 run the race. Crazy.
I'm posting this for my friend Steve, who's on his way to Peoria. Say hello to the floor for me. And if you see that awesome hat of mine, bring it home. It went MIA.