After all that hunting high and low for a nursery that had even heard of a cardoon, I am pleased to report that my three are going gangbusters right now. Here's the grand-daddy of them all…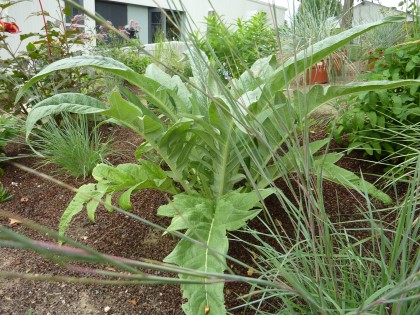 About 4′ high. About 5′ across. And such a gorgeous silvery green shade. Definitely that big-time drama I was going for. Love it.
Last week while in the Berkshires, we spent a few hours at Berkshire Botanical Garden in Stockbridge, MA. A wondrous place replete with late-summer garden amazement. Anyway, as we were just about to finish our walkabout, I happened into a small garden area that, low and behold, featured this…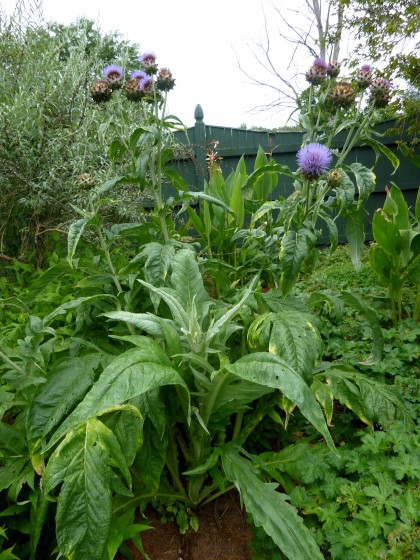 Hey, a cardoon! What the… what's that crazy bit at the top there?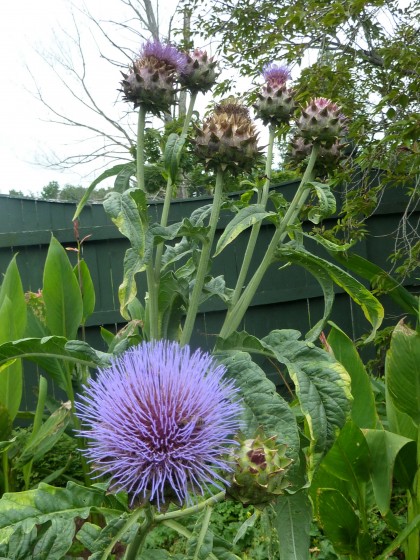 omg, it looks like a thistle — a 7′ tall thistle! Whoa. It was literally swarming with bees, who all somehow managed to flee the shot right as I took it.
Are you sure this is a cardoon? None of mine are flowering. The first ones I ever saw at Denver Botanic Garden weren't blooming either. Hmm… that is most definitely a cardoon in full flower.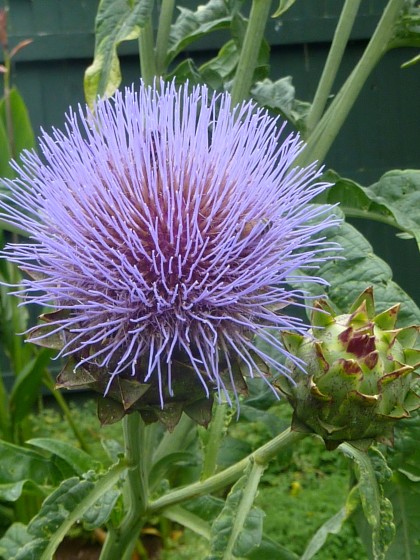 I had to look it up when I got back to my computer.
And yes, there it is in wikipedia: a cardoon in flower. Who knew? Yep, it's related to a thistle. The artichoke lineage I knew about but the thistle I did not. Guess that's because I didn't know artichokes belong to the thistle family. God I love me some internets.
Of course cardoons flower, duh. Why didn't that occur to me before? Even if mine never do, knowing they can makes my heart go pitty-pat for them just a little bit more.