A little something to make you chuckle… Just after we moved in at the beginning of 2008, we got a letter from the Providence College Department of Art and History asking if we'd consider adding our house to their "online exhibition" as a "significant example of modern architecture." Really? Our place?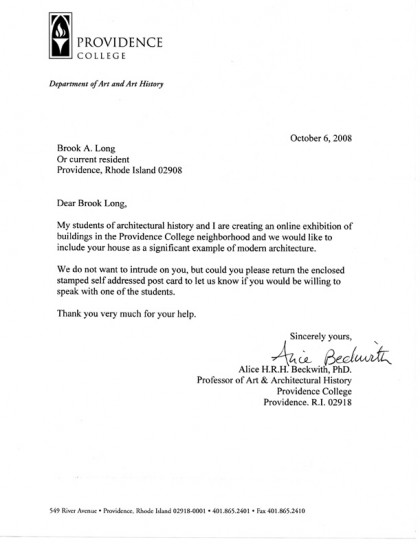 Sure, why not. I guess we do own the only modern in the 'hood after all. So we were visited by a shiny young thing from the architecture class who then did her research, we gave her photos and told her what we knew, and she put together this entry for the PC architecture website. Keep in mind that this was a student project and makes our house sound a little, how you say, highfalutin?
Page 1 (click to biggify)…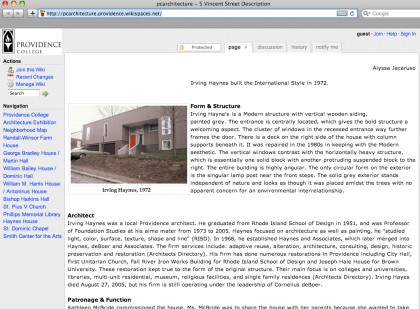 Page 2 …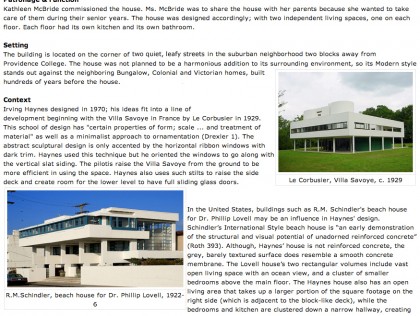 Page 3 …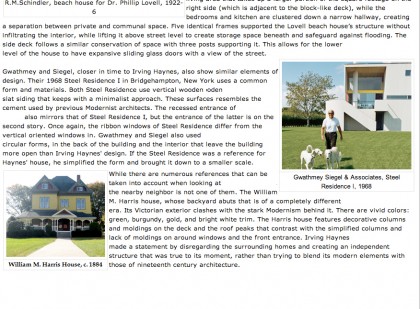 I've told you what we know about Irving Haynes in previous posts. I wonder what he'd think about being compared to Le Corbusier and Schindler? Flattered? Embarrassed? Which brings me to an unexpected syncronicity…
David's grandmother, Maria Fenyo McVitty, was an architect who worked in Paris with Le Corbusier right after World War II. No, really! I'm pretty sure she'd laugh off the comparison to Le Corbusier. However, she did give this house her stamp of approval on an all-too-rare visit to Providence the year we moved in — unfortunately also the same year she passed on. Hers is a fascinating story I intend to share with you someday.
Miss you, Ria!
Tags: architect, architecture, Haynes, modern, modernist