Does Progress take a vacation during a holiday week? As luck would have it for us, no. Progress is in motion!
Let's see… it was almost October when we met with Markus, our architect. He's swamped with responsibilities as assistant professor of interior architecture at RISD, so hooked us up with Emily Wetherbee, also on the faculty, to carry on with what we started.
Our original plan was to start with the upstairs living/kitchen area. But winter isn't such a great time to rip out exterior walls, which is one of our goals, so Emily, David and I decided to switch gears. Stage 1 of our destruction will now be the downstairs as it's all interior work.
After several meetings, including today's, Emily is closing in on detailed plans for the engineer — then off to the city for a building permit. I'll give you a better look at the plans when we're closer to final…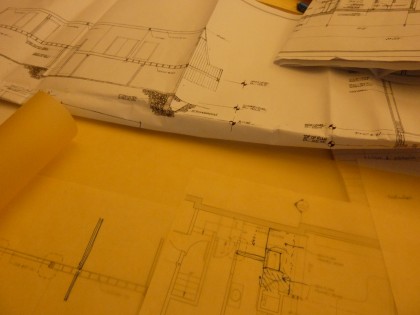 So 2011 looks like it's going to be The Year. Finally. It's actually going to happen. No, really.