On my brain today: the landing strip. That pesky area where you come into your house and want to divest yourself of the sundry things weighing you down. Coat. Muck boots. Scarf and hat. Mail. Keys. You know the drill.
As I've mentioned before, we don't have much room in our entryway…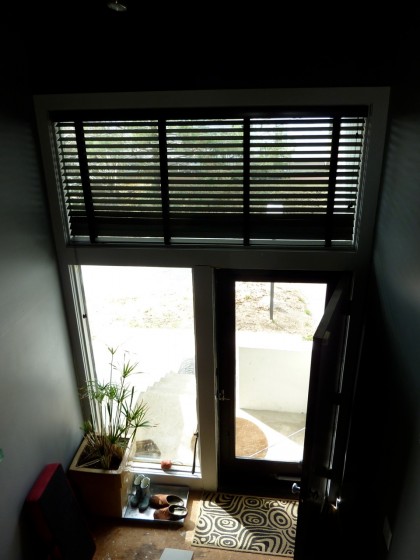 No room for a closet. Possibly room for a small bench (we have one in the works). The galvanized boot tray from now defunct Smith & Hawken we'll likely keep for underneath the yet-to-happen bench. I vote for carting our coats upstairs, but I do see a need for a place our guests can unload before they make the journey up.
In just the past week, I've come across two possibilities that don't look as though they'd intrude too much into our small space…
Funny, the photo of it in situ reminds me of our landing strip setup…
Looks like it needs a boot tray. They also have a matching stool for underneath…
Plus a longer version with a matching bench…
Made of plantation grown teak — a nice sustainable touch. Thinking those would do well in a bathroom as well as an entryway. Thanks to Remodelista for pointing me in their direction.
I came across another coatrack with landing strip potential while poking around the Amenity site. This one has an even slimmer profile…
Made of reclaimed fir.  Comes in a low-VOC, non-toxic walnut finish in addition to natural. I like that. The mail slot in the back makes it extra functional. Sweet.
Add those to my list of "gee I wish I had that."