Let's review: Last spring, we planted a lawn. This spring, the lawn got torn up to make way for the  new patio and koi pond. And now, I'm planting a lawn.
The last of the steel edging is finally in where I drew the boundaries between the future lawn and beds, and the composted topsoil is all raked out. Perty…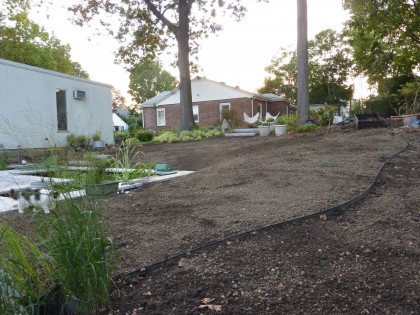 I seeded the lawn yet again, using the same grass seed mix as before…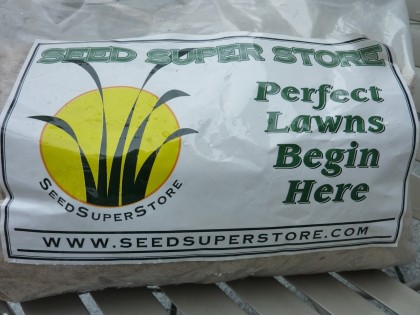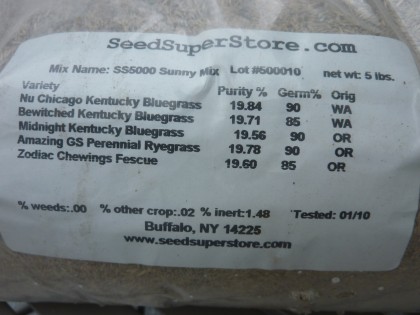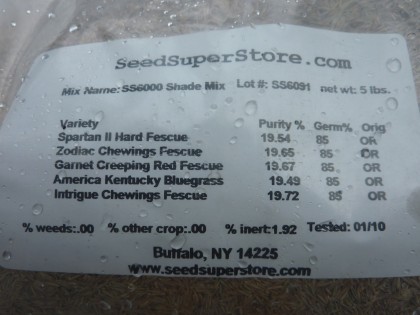 As you can see, the seed is from last year. Hope it's still viable. Fingers crossed. Did I add lime? No. Fertilizer? No. I want neither washing down into the pond.
Because we're on a slope and lost seed in the past each time it rained, I wasn't taking any chances this time. Burlap to the rescue! It looks like I've got a Martha Stewart complex and went and quilted the whole backyard…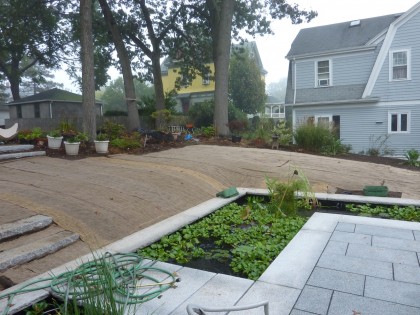 Half of it I rolled and stapled down in a mad rush during yesterday's rainstorm. The burlap is biodegradable — so I could leave it down and let the grass grow right over it. Or, from what I read, I could decide to pull it up when the grass is at least 1/2″ tall. We shall see.
This project is Bambino approved.