On Friday I showed you the downstairs plan we worked out with Emily, our architect. Speaking of which, we met with her and the engineer today to make sure everything's hunky-dory before we go to the city for the permit. Getting closer. While we wait for final engineering drawings, let's discuss the rough upstairs plan that Emily drew up. K?
Stage Two: Main Living/Kitchen Area
The upstairs remodel will have to wait for warmer weather — which is fine since we'll be plenty busy with the downstairs. Upstairs is more involved than the downstairs as this is where the main living area and kitchen are located. Feel free to take the visual tour of what we want to do (I posted that back when we thought upstairs was going to be Stage One).
The upstairs currently looks like this (click to biggify)…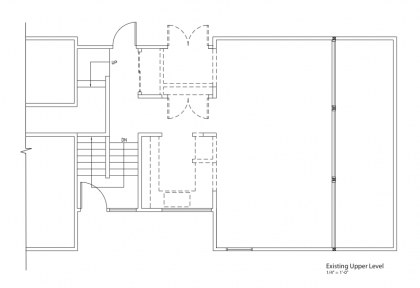 With the changes we want to make, it will look more like this…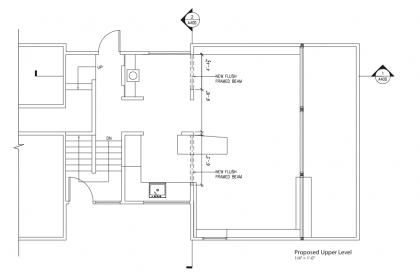 Not easy to spot the differences but here they are:
Just like downstairs, we're knocking out a few load-bearing walls and putting in beams in order to open up the space. We'll gain some breathing space in the kitchen by putting in a cooking island/breakfast bar that juts into the living area, plus we'll go vertical with storage and add a large cooling tower/skylight over the whole space. Facing out to the backyard, we're knocking out the giant closet and putting in glass sliders and little sitting area with a fireplace insert. The main living area will be flanked by floor-to-ceiling built-ins with built-in seating. The dining area next to the tiny kitchen will get a built-in sideboard/serving shelf as part of its floor-to-ceiling built-ins. We'll replace current sliders and windows, put in a new floor and ceiling, and improve lighting and heating.
Basically, nothing goes untouched. So do you think we can get it all done in 2011? Let the wagering begin.
Tags: architect, architectural plans