This is the door to our remodel actually happening…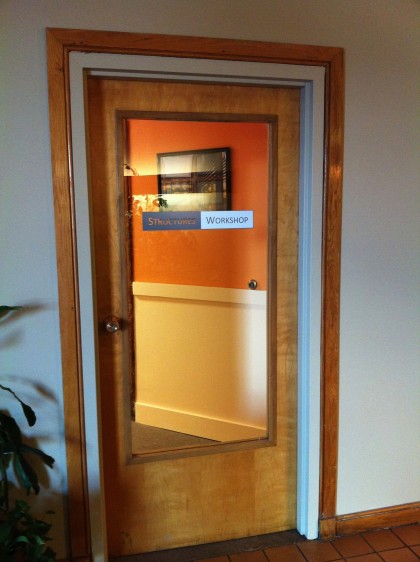 David can tell you all about it.
*          *          *          *          *          *          *
So. Made a trip over to Structures Workshop to pick up the final drawings from the engineer yesterday. Want to see what engineering drawings look like? Sure you do. (click to biggify)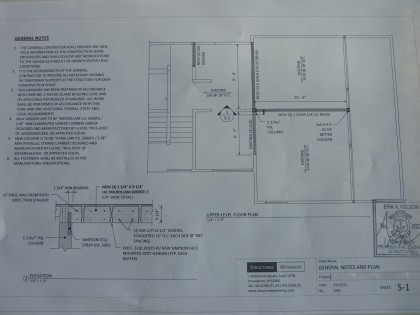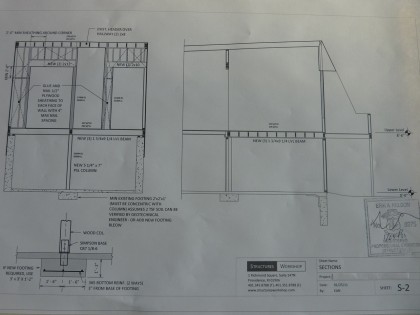 So what does it all mean? We have to put in some pretty hefty wood to carry the loads in our house. That's the penalty of opening things up. When it's all said and done we'll have a column in the downstairs that carries 14,600 pounds!
Loads are divided up into live and dead. Not what you're thinking. A live load is temporary and moving weight like people, snow, rain, wind, etc. A dead load is the non-moving and non-changing weight of the structure itself and permanent fixtures like furniture, rugs, etc.
We have to verify that the footing shown in the original '70s drawings actually exists under the downstairs floor slab. If it's not, this is what Eric Nelson, our engineer, wants to see…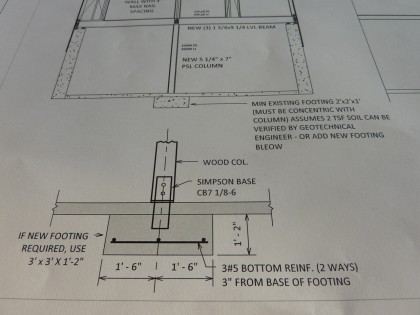 Not an easy thing to do but without it that column will slowly sink taking the upstairs and the roof with it so….. on to (hopefully) non-destructive footing confirmation. I'll let you know what I find
The next step is to deliver the drawings to the building department so we can get our permit and start work!
Tags: architecture