Yep, the ceiling is dunzo! Finito! Completo! David has the lurid details…
———————————————————————————————————
Joe and I finished installing the ceiling tiles and tackled the final step earlier this week: sealing them. As I just reminded Brook, cork is wood, right? So it benefits from having a finish on it to resist marks and scuffs, and to keep the stain from discoloring over time.
Because the cork on the ceiling won't get wear and tear from countless feet, we applied two coats instead of the four recommended for floors. The ceiling in the bathroom got four coats because of the increased humidity and the probability of water splashing up onto it in the shower.
The water-based finish was supplied by Duro, the flooring maker, as well as filters to ensure that no grit or anything else was in the finish, and applicator pads…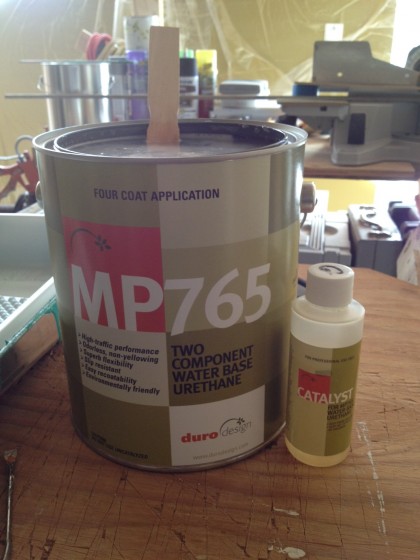 They even sent us the mixing stick! The finish is a catalyzed, water-based polyurethane. According to the instructions, you add 6 ounces of resin (the Catalyst bottle) to the gallon of finish and stir well. Easy. As long as you remember that the gallon needs to be used within four days or it will harden in the can.
We whipped up two poles to attach the pads to and then applied elbow grease liberally. To be honest, it was a little tricky keeping a wet edge on such a large expanse…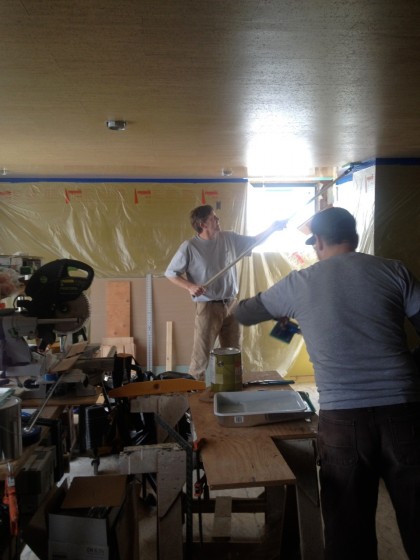 The second coat dried very quickly and required moving fast to stay ahead of it. Invigorating exercise.
The finish dried within hours to a dull, not quite matte but far from lacquered, sheen…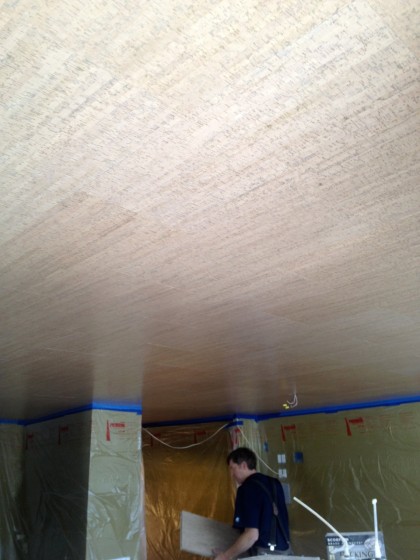 Looking good. Next up: the floor.