Back in the spring we started looking at manufacturers of aluminum windows and ultimately chose Arcadia. About three months ago, we put in our order for the first round of windows. As of yesterday morning, replacement of the windows and sliders on just the deck-end of the house finally kicked off.
Did I say "just"? It took four people from Rhode Island Glass to unload it all…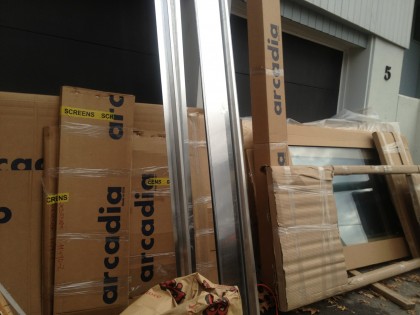 While the shiny new goods were unloaded, Joe and David got the window wall ready to go by removing the moldings holding in the old wood frames…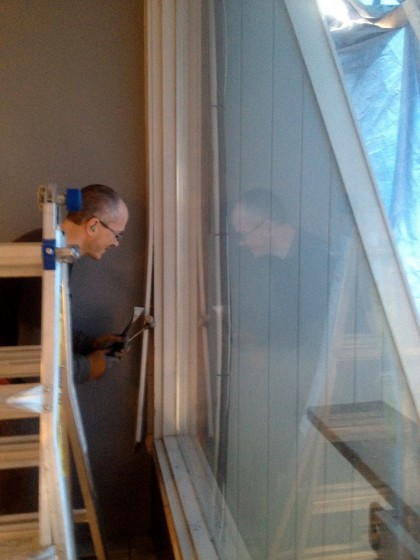 Goodbye, moldings. I will not miss you. You make no sense in an MCM house that wants a cleaner, simpler look…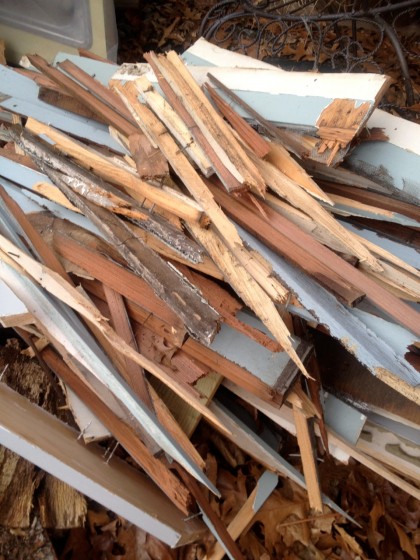 The crew from Rhode Island Glass carefully removed the old glass. Mind you, they're standing on scaffolding one flight off the ground and the glass weighs a gazillion pounds…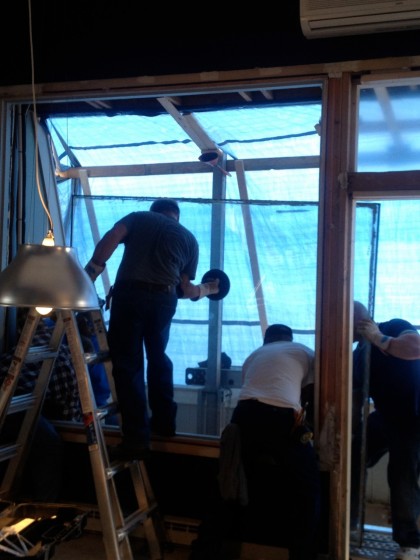 Like that's not hard enough, the two panes started to separate from each other. Nice. Somehow they lowered it to the ground and carted the whole business up-slope without injuring themselves. Goodbye, cloudy old glass…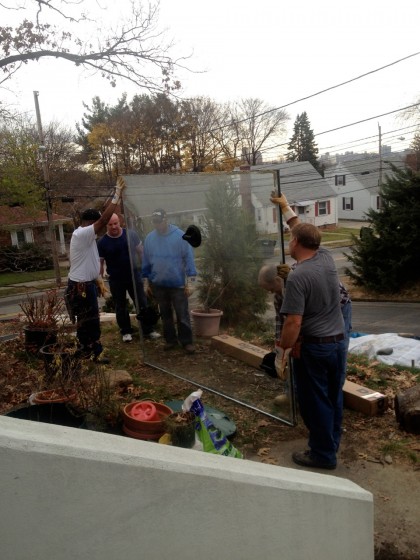 David and Joe worked upstairs, installing the wood frames to extend the openings out flush with the face of the 3″ foam+plywood, while the crew worked downstairs…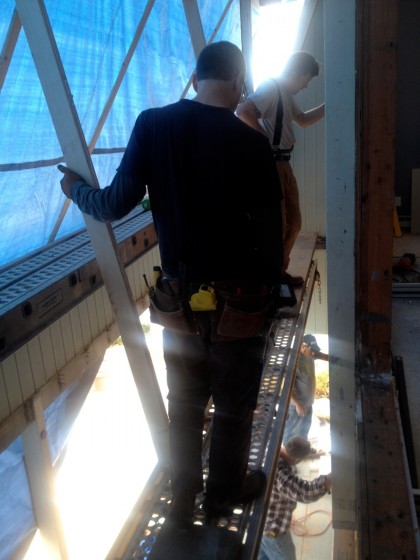 Newly fitted window box complete. The giant windows on both sides of the central slider were resized about 12″ narrower in width…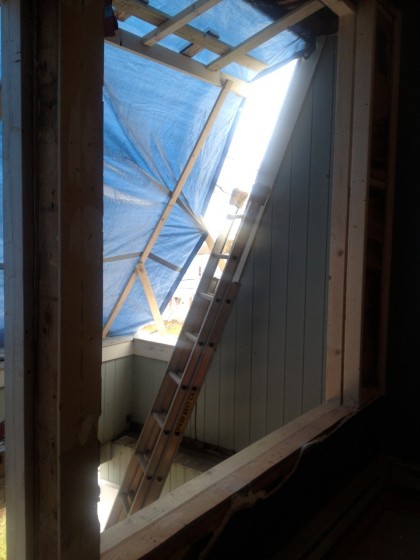 … to accommodate future built-ins planned to run along the walls of the upstairs livingroom. The cabinetry needs a solid wall to die into…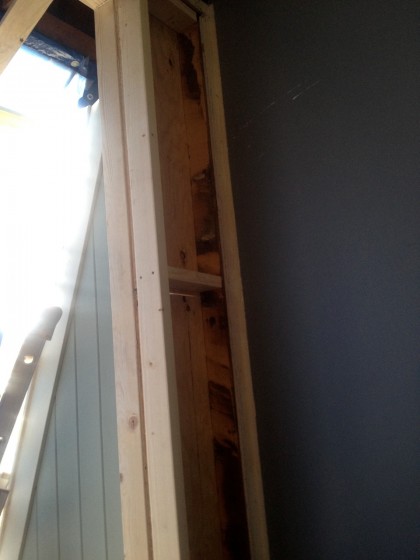 Over the foam+plywood went a layer of house-wrap to keep out the elements. Joe carefully detailed the openings prior to windows…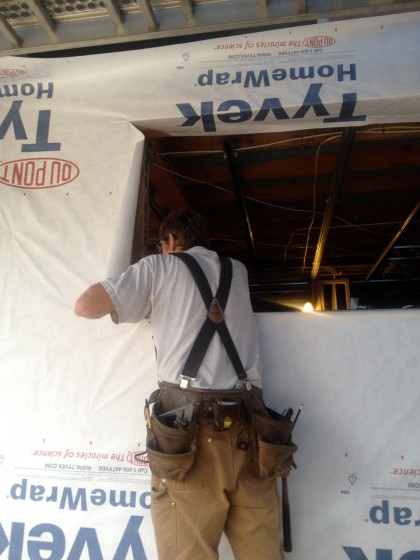 The house-wrap was then topped off by custom-made aluminum flashing…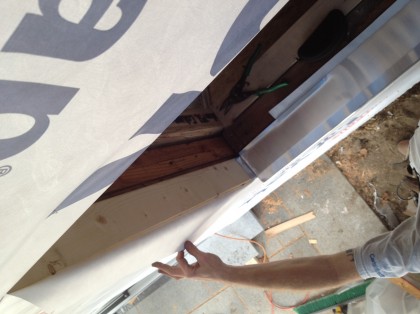 [The flashing deserves its own post — it's pretty special.]
The downstairs slider went in and then the window. Full pics tomorrow…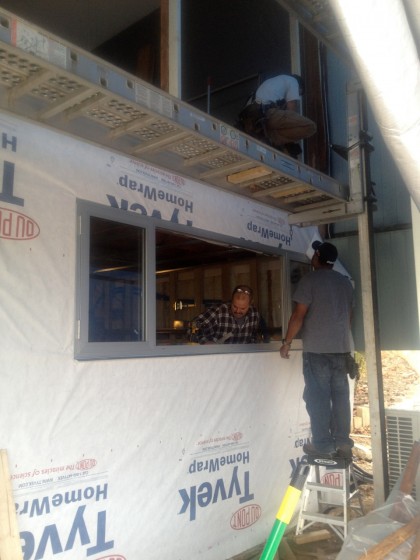 Before the day came to a close, Joe and David had all four of the upper window and door extensions fully adhered, leveled and screwed into place…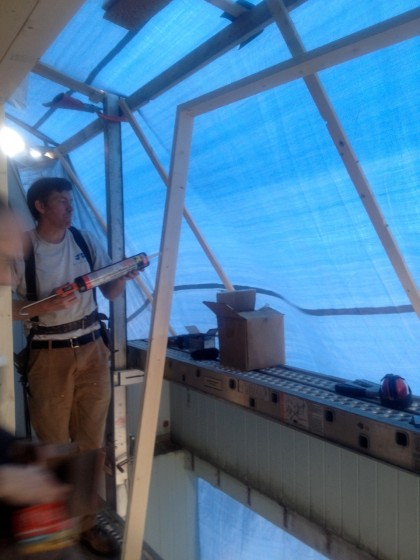 But there just wasn't enough time to get windows and sliders in upstairs. Although David wrapped the openings in anticipation of last night's storminess, at 1:30 the gusts, how you say, compromised the plastic…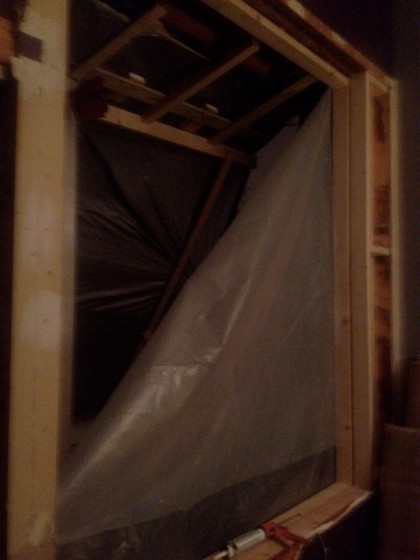 … and the storm found its way in. Nothing like fixing things in the middle of the night to make you tired for round two the next day…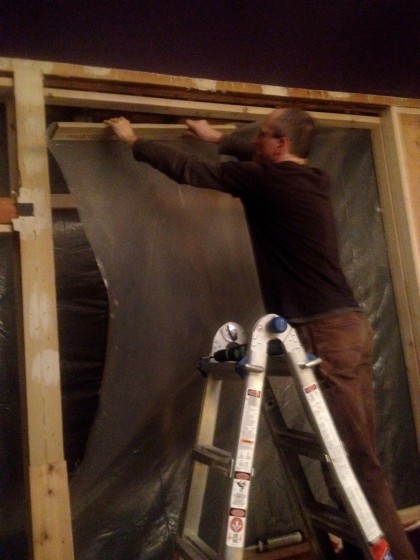 You can hardly wait to find out how it all ends, right?
Tags: construction, deck, remodel, windows and doors