If you've been following along, the new heat was installed a week or so ago. Then came time to get it running. Jeff from RAM Mechanical came back to commission the HVAC system. First he checked that the 100 psi of nitrogen he put in the lines hadn't leaked out…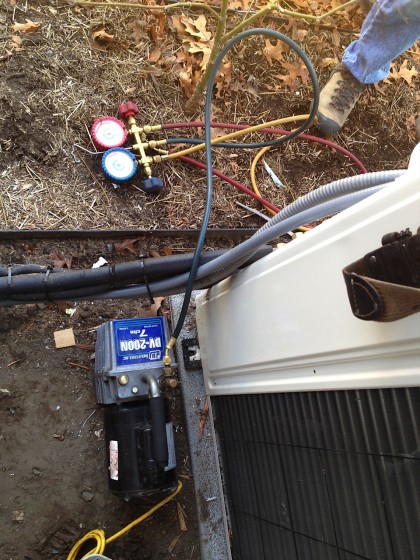 Next he double-checked all the wiring. Once he was sure everything was good to go, he turned it on. There was a problem with the amount of refrigerant in the compressor — it was charged assuming 150′ of pipe but we only had 52′, so the pressure got too high and everything shut down. A couple of phone calls later we had the right amount of pressure and things were heating up nicely.
Until we start on the upstairs construction and tear out the old electric baseboard, these two thermostats will be neighbors. 1971 meet 2011…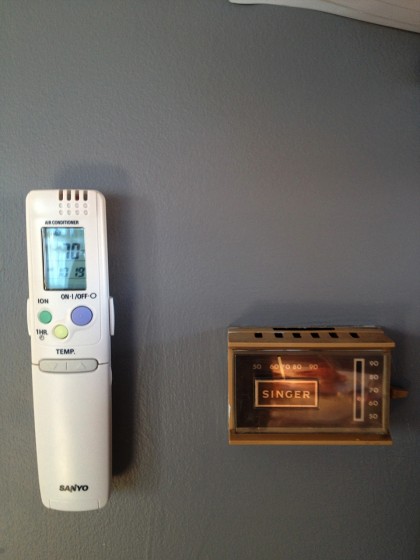 The new thermostat is also a remote control… or is it a remote control that's also a thermostat? It has all the features you might want except it's not programmable to automatically reduce energy use during different times of the day…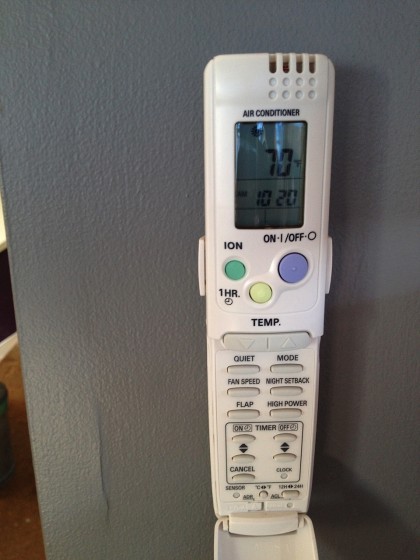 It does have a night-time setback mode which gradually reduces energy use (raising the temp in cooling season, lowering the temp in heating season), but it's manual mode. We'll see if there are any other thermostat options available for this system.
In any event, the new Sanyo units produce plenty of heat, the fans are very quiet even on high, and we can't hear the compressor run. So far so good, we'll see what the electric bill has to say next month.
Tags: energy efficiency, hvac