Back to the deck. The other day, it was taken apart. And the findings? Tell us all about it, David…
——————————————————————————————
So. Exploratory surgery has exposed the truth about the deck…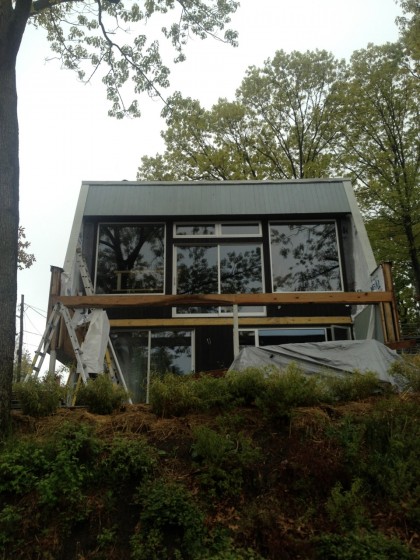 Some is ugly… well, all of it is ugly. But we kind of knew that going in.
Insects had their way with the original deck and it's apparent that in the early '80s the deck was rebuilt. Unfortunately not by craftspeople, or in fact by carpenters. In any event, we will now repair what's there as well as build it to the original '70s design, as intended by architect Irving Haynes (click to biggify)…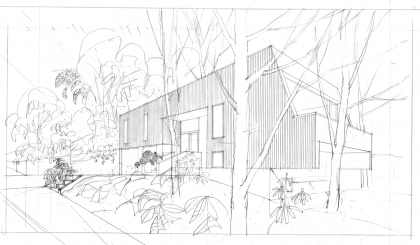 Cantilevered. Which means we'll be taking out the three spindly support posts currently there.
Our engineer provided us with drawings of an ideal situation (click to biggify)…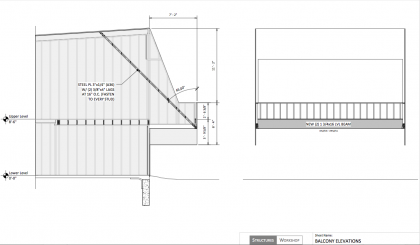 The plan:
A pair of LVL beams (same as we used to support the living room floor/downstairs ceiling) will carry the deck load across the front of the house.
Two steel corners will tie all the wood together at the outside corners.
Two long steel straps bolted to each framing member they cross will support the outside corners by spreading the load across the sides of the house.
And with slight modification of the steel corner, we will proceed. After the building department gives us a permit, that is.
Once the framing is all sorted we'll add some nice new decking, an affordable teak alternative called Garapa Gold. But that's a story for another day.
In the meantime, everyone can see us from the street…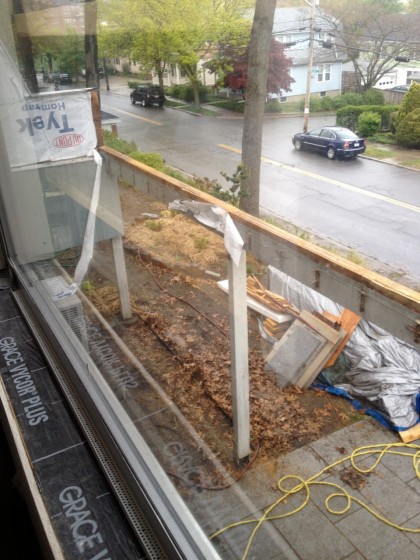 Tags: construction, engineer, Haynes, steel, wood