Our friends are always asking if we've made progress in the kid's room. No wonder. The move was two years ago, which means Bix has spent nearly half his life in a mess. So we tackled his room first, hoping to create a calm, fun place away from the remodeling storm. I like the result. But I'm also conflicted about it. Argh.
Starting with what we already had
Luckily, we moved in with most of the stuff we used, including mandatory KidKraft train table, some chairs, and the drawers and bookcases David built when Bix was a baby…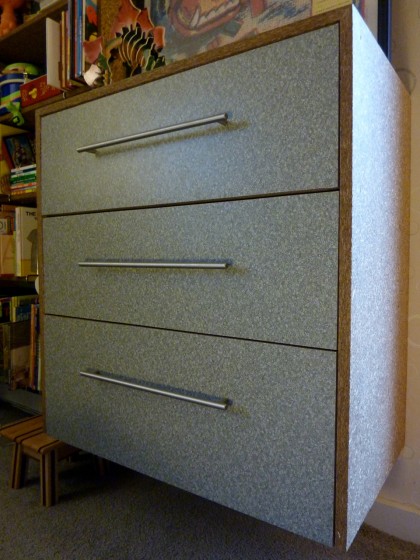 I see the drawers need a little readjusting but you get the idea. We used Sunflower Seed Board from Van Beek's in Michigan. Here's a closer look…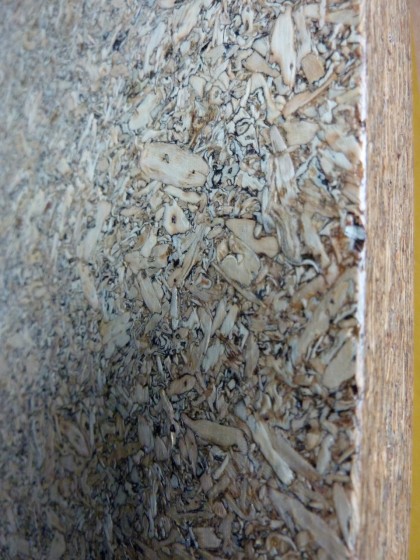 It's an eco-friendly MDF made from pressed sunflower seed hulls. LEED-certified, no formaldehyde, no outgassing. Finished in a simple water-based poly. Makes us feel good.
David had made the drawer fronts using a laminate we thought was fun enough for a kid but easy to like as an adult…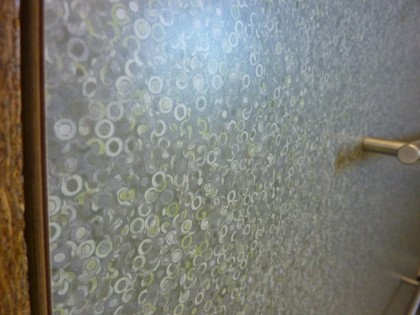 We debated about the environmental friendliness of laminate and decided that because drawers see a lot of grimy little fingers and can take a beating that the sunflower board can't (without getting chipped, that is), it made sense.
Attack of the madwoman with a paintbrush
Before we could hang the furniture on the wall above the heaters, I had to scrape off the babyish wallpaper border that went all around the room, prep the walls and paint.
To encourage drawing, I decided on kid-height chalkboard walls around the perimeter. I taped off the space…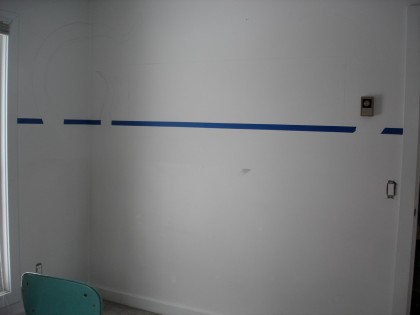 Used a dab of caulk along the bottom of the painter's tape for a nice, clean edge. Then filled in my lines with four or five layers of chalkboard paint to make it extra durable.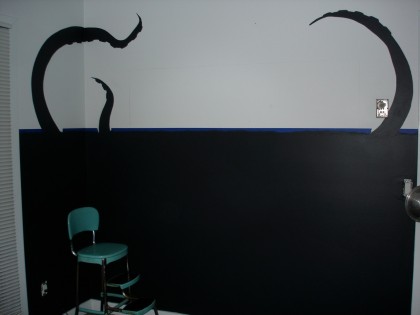 I was hoping to tie the chalkboard to artwork we commissioned our friend Ryan Lesser to make a few years ago (click to biggify if you care to)…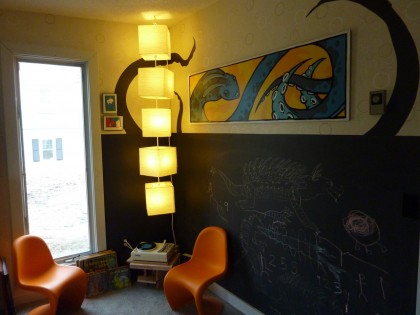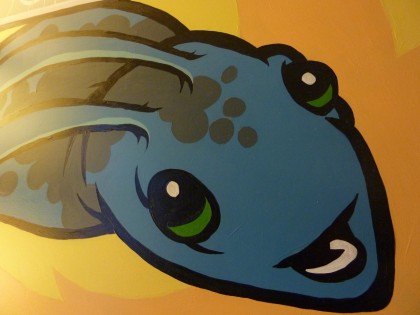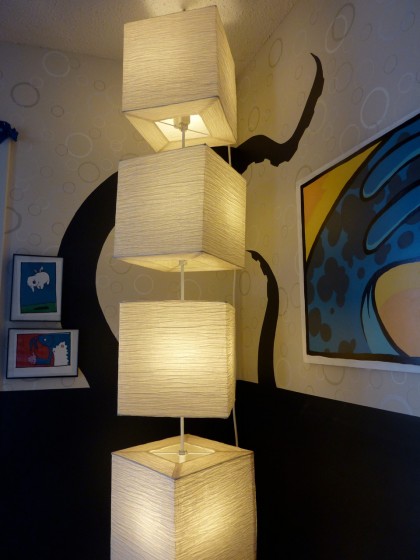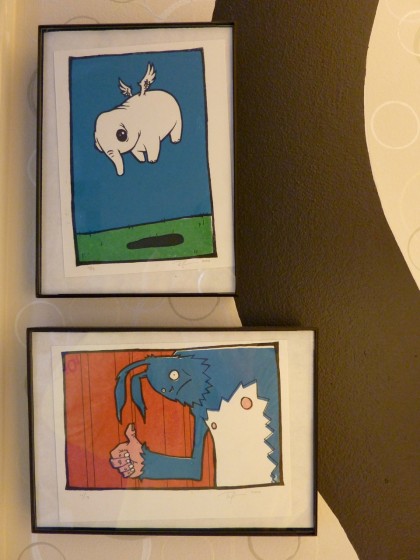 Those are a few more characters by Ryan.
I brought the tentacles around the corner and over onto the adjoining wall behind the door…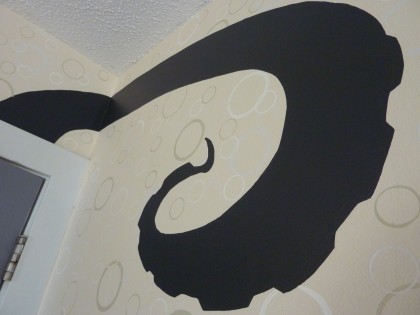 I maybe went a little overboard carrying the "bubbles" look from the laminate onto the wall…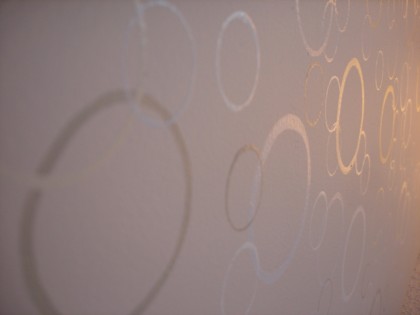 I used high gloss paint in various tints of white (some bluish, some greyish, some super white, etc.) on top of a matte oatmealy white. The anal part: I used round container lids in three sizes, dipped them into the paint and then pressed them onto the wall. Looks good when the light hits it. David thinks it's too busy. Just wait, it gets much busier.
Bunk bed in a closet
The dressers are more than adequate storage for the wardrobe of a 5-year-old — with plenty of room for toys, too. His closet was wasted space, so we decided it was a smart spot to fit a bunkbed with storage underneath. Great for sleepovers someday, or the occasional guest.
In order to be twin-bed length and last Bix well into his teens, we needed to make the space a little longer…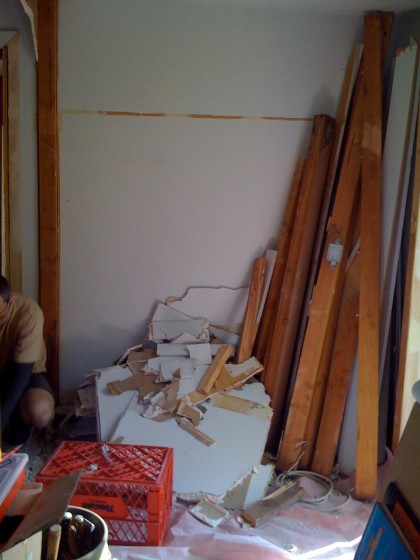 David extended the closet space by about 6″ and added some serious mass loaded vinyl sound-proofing to the walls. The occasional mid-construction reading break was called for…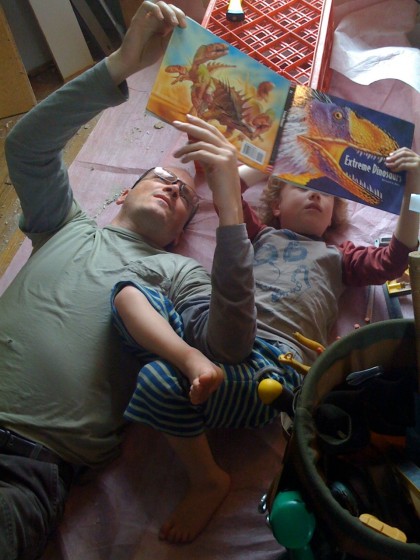 Then he put in new drywall and spots for lights for both bunks.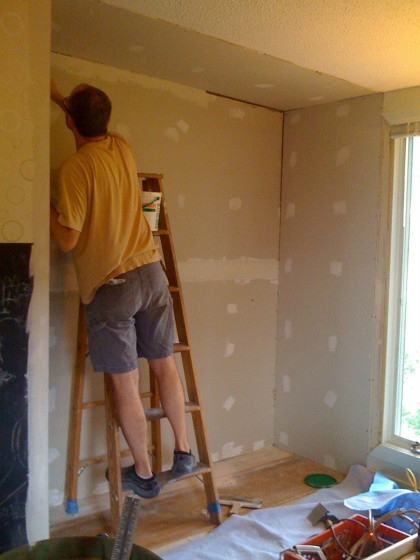 He drilled crazy long wood screws into the studs for extra support.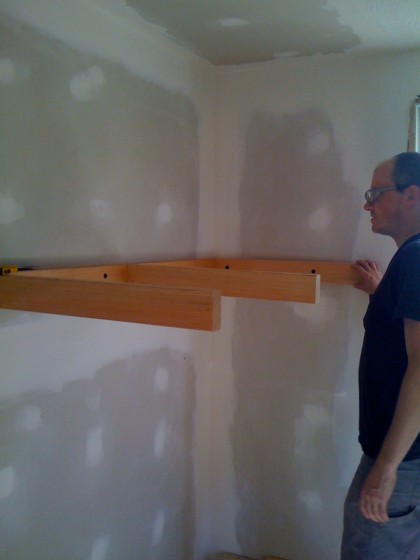 Hang on a sec and I'll show you the finished bed. Keep your pants on.
Paint overload
Building out the closet ruined  the edge of my paintjob. No biggie. Easily camouflaged with a little sanding and some paint in a contrasting pattern to trick the eye. I did a color study using various shades from around the room — Benjamin Moore zero-VOC Natura paint so I could feel reasonably okay about sticking to our eco-friendly principles…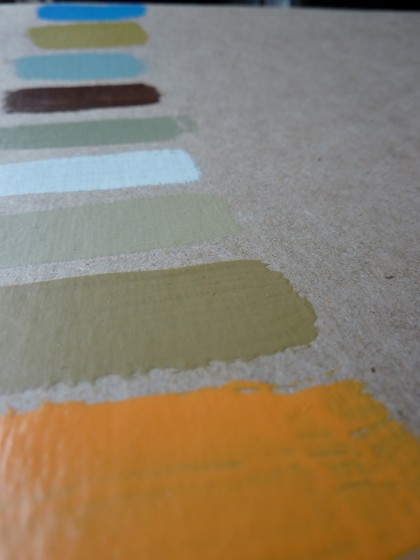 First, I taped off a floor-to-ceiling strip for magnetic paint (not so eco-friendly, I'm sure). The Ben Mo' semi-gloss can go right over the top to dress it up, so I taped off cubes to echo the Ikea paper lamp hanging in the opposite corner…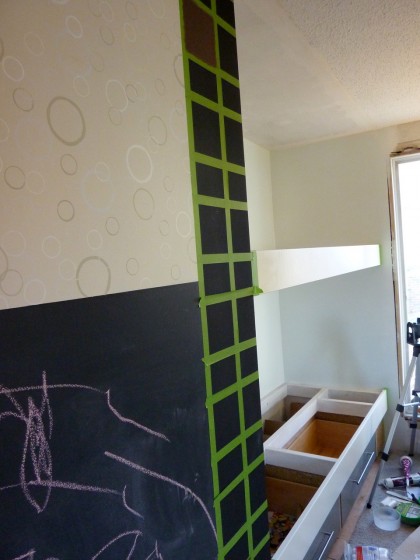 So the result?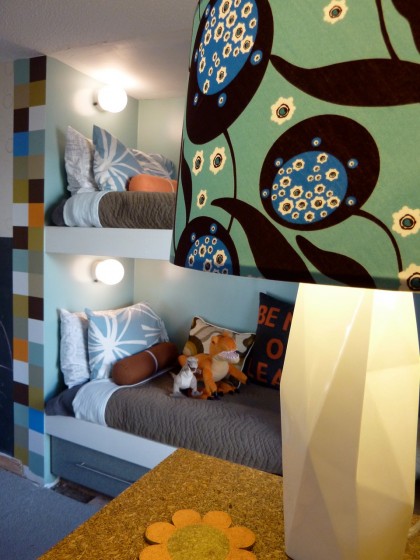 I matched bunk bed walls to the aqua in the bookcases. The magnetic strip brings in all the colors of the room. Recovered the shade of the West Elm lamp I picked up for half price. I'm liking how circles vs. squares turned out.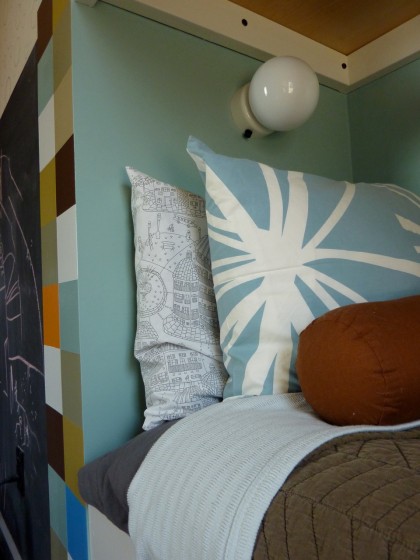 Aqua pillowcases from Area we already had. Added the illustratey one and cushy flannel sheets from Garnet Hill. Organic blanket and a quilt picked up at West Elm. Roll pillow half price from Unison. Sales rawk.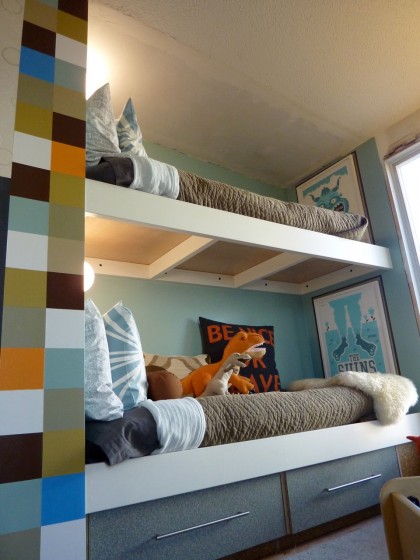 The underbed drawers we stole from one of the dismantled dressers David made for Bix's baby room. As Bix gets older, we could decide to pull out the bottom bunk and put in a desk. Or add a clothing rod under the top bunk. It's a very flexible space. And the whole thing could easily become a closet again if need be.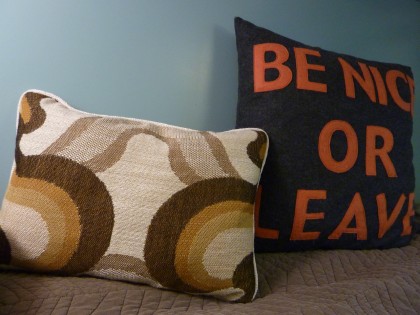 Pillows from two great etsy sellers: Spruce Home who works in some great vintage fabrics and Alexandra Ferguson who uses 100% post-consumer recycled felt. A nice comfy back for a little storytime action.
Shins "monster" art from Tad Carpenter...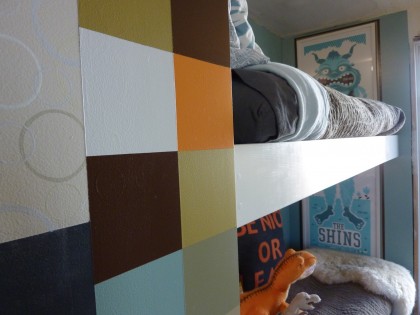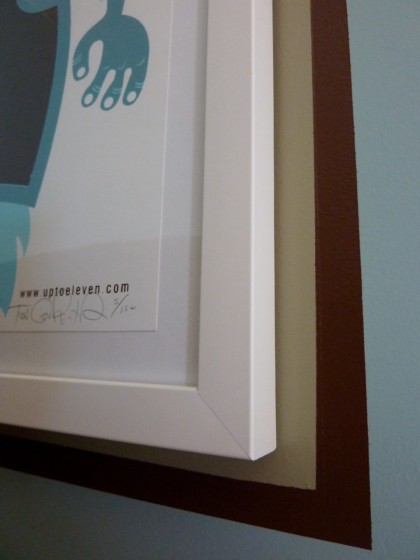 Such a paint addict — I thought it needed a border. As a side note, that's not glass inside the frame. It's plexi. Globe lights are also plastic and not glass. Just in case, ya know.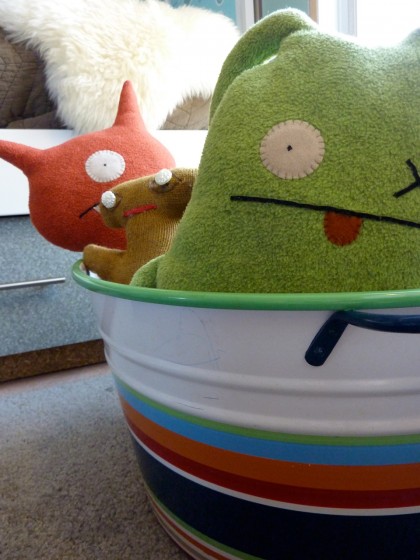 Barrel found at PB Teen at a get-it-outta-here discount of 75% (years ago, sorry). So many uses but for now, all things stuffed.
On the way over to the book nook…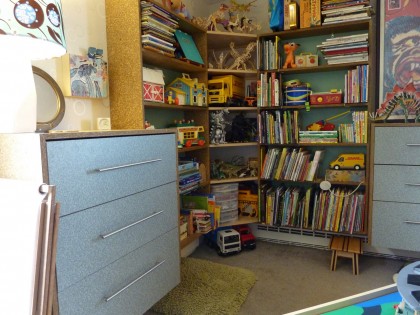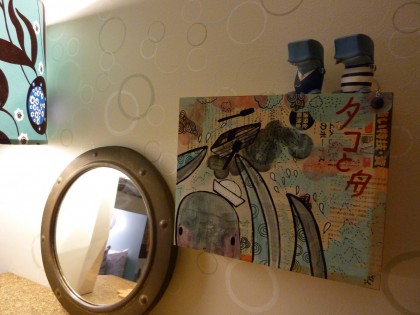 New painting by Trish Grantham and Frank Kozik figures from Kid Robot over the dresser.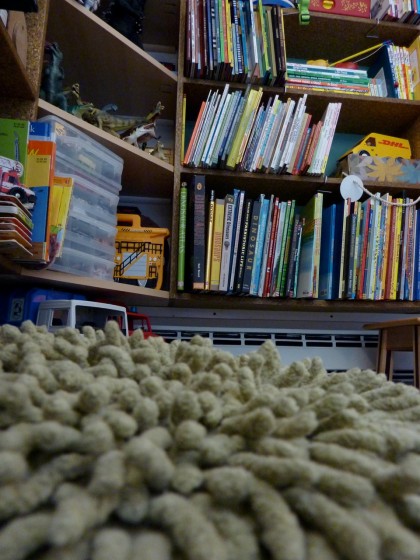 A grassy knoll pillow for reading, repurposed from the living area.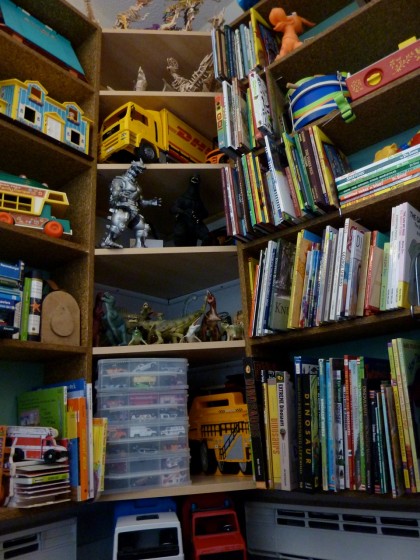 We bridged the space between bookshelves with cheap Ikea corner shelves, which added even more storage.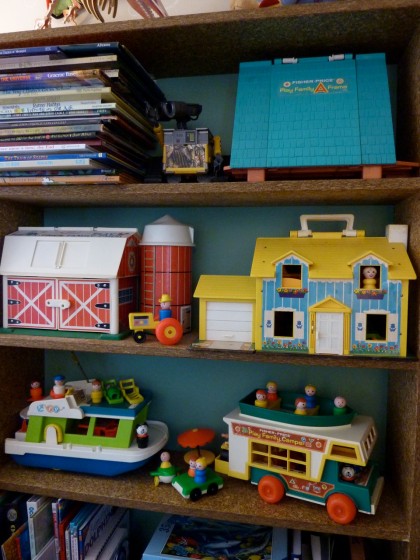 Vintage Fisher Price "little people" toys collection. Thanks, eBay. I always wanted an A-frame.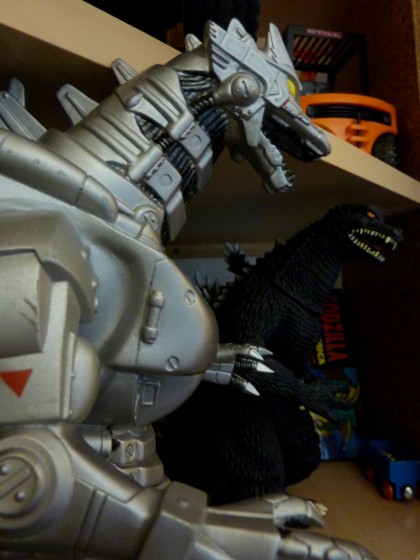 Mechagodzilla and Godzilla — gifts from Bix's friends "the Godzilla girls."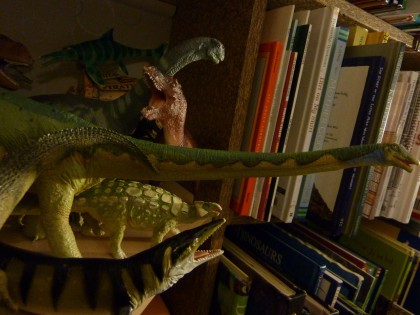 Bix's true love: his dino shelf.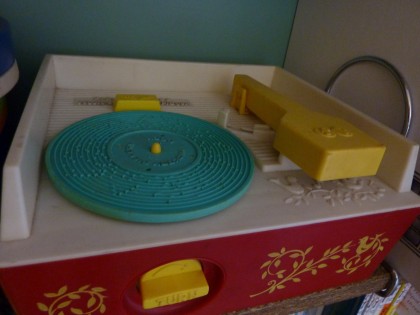 Vintage Fisher Price record player came with six "records." Priming him to be a DJ from a very young age. eBay.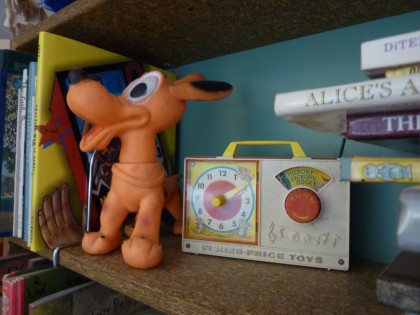 Ancient Fisher Price "radio" still works. eBay. I'm getting repetitive, sorry.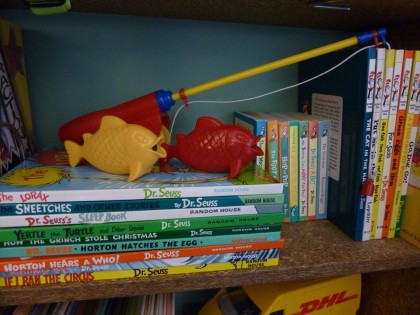 The Seuss section.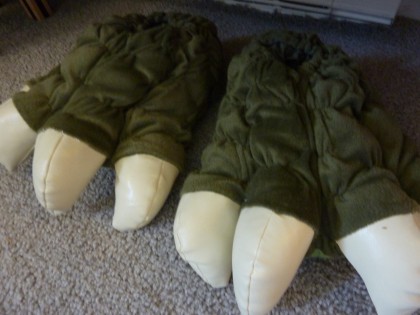 Godzilla feet from Toho for stomping through the house.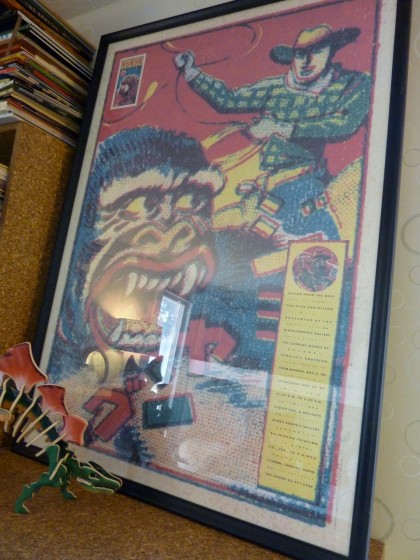 On the other dresser, a leaning Charles S. Anderson poster hides a hideous air conditioner. Dated '89, although I picked it up at a paper show in Houston years after that. It's a French Paper sample Bix insists he must have in his room because up above King Kong…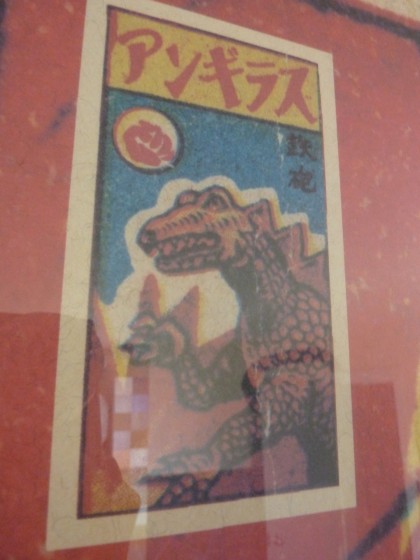 there's a tiny Godzilla. I cannot deny him.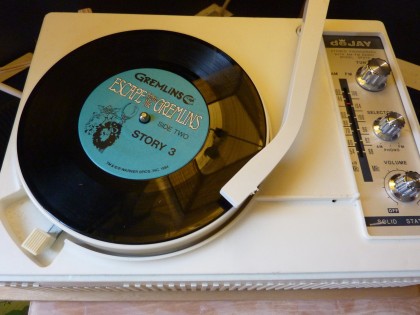 Gremlins on the crappy eBay turntable that came with about a zillion records to add to those we already had.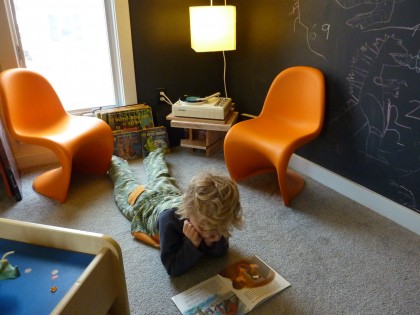 And now we're back to the corner where we started! Only now somebody's appreciating the joys of vinyl. Good boy.
What's left undone
Still to come: the ladder and top railing for the bunk bed, replacement baseboard and trim here and there…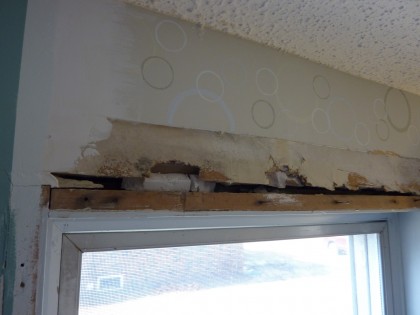 a wood ceiling (to cover the popcorn ceiling) and wood floor. Can't wait to get rid of that hideous toxic carpet, too.
Why I'm conflicted
Had really hoped this room would be super "green," seeing as it's our child's room. Sustainable materials, great.  Completely thrilled with the organic mattresses — beautifully made and comfy. Eco-conscious paints, very good, but so much paint, right? And it amazes me the shizzload of plastic in this room! On the one hand, much of it's vintage — we're keeping plastic out of the landfill, yay. On the other hand, it's still plastic. Oy.
So I give myself an 85% on achieving my goals for Bix's room. Granted, I'm a harsh grader.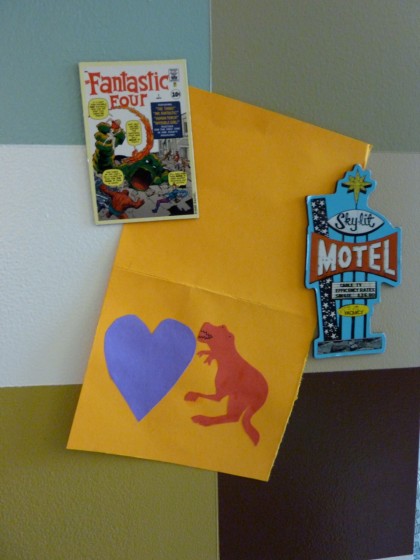 Orrin made Bix a Valentine. So cute. Thanks, Orrin!