We go through a lot of fruits and veggies in this house. But just because it'll be 7 degrees tonite doesn't mean I'm going to toss my scraps in the trash. I make compost all winter, in fact, using these three cans I picked up at Ikea last year…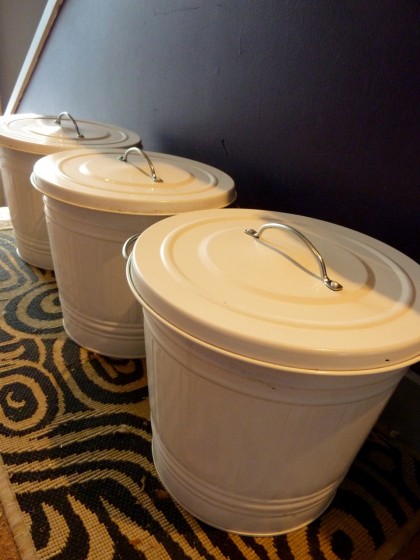 My food scraps don't stay in the cans — they just get a good start at breaking down into compost indoors where it's warm before they get added to the pile outside in the freezing cold. I got the idea from Fine Gardening last winter. Check it out if you compost. This method worked well for me last winter so I'm doing it again.
The basic idea is to create a compost lasagna: chopped up leaves on the bottom, a layer of scraps, a layer of sawdust and soil (I usually use leaves and soil), a layer of scraps, and so on. As one can fills up you move to the next. The third can is for storing your sawdust-soil mixture (or in my case, chopped leaves) so it's handy. By the time spring rolls around, you'll have a healthy pile of compost to work into your soil.