This month was a little disappointing. Lots of projects in the works but little actually finished. Or actually started. Let's see…
THE BENCH, UNDONE
We left off with David taking a weekend welding class in July with the intention of creating a bench for our entryway. Here's where it stands…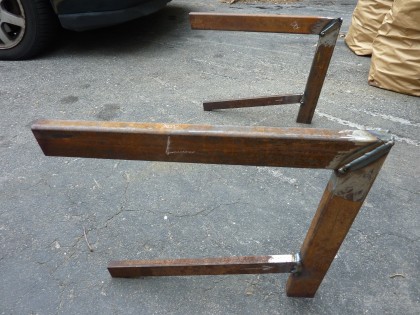 Still to come: the sanding down of the welds for a smooth leg…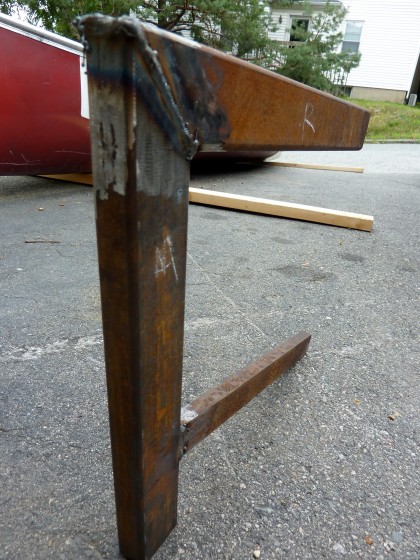 Also to come: the powder-coated finish. the wooden bench seat. and the satisfaction of being able to sit down and take off your muck boots at the door.
THE RAILING, UNDONE
The railing for our retaining wall out back is still not a reality. We need to keep people from tumbling over that 7′ drop! Rhode Island Welding helped us with the galvanized steel raised veggie beds and stairs, so we talked to them about the railing….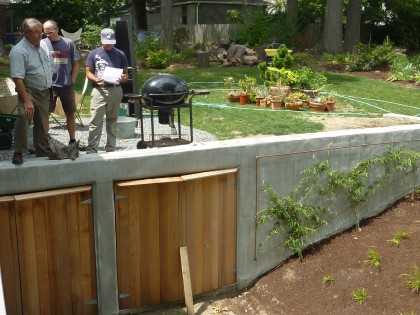 Prior to measuring and drawing up what we wanted, there was much discussion about what kind of railing would work best here. David and I agree that we want something:
minimal to complement the simple lines of the house
you can see through, as we don't want to block our view
that isn't the star but fades into the background
that is obviously an accessory to the design of the house rather than something that looks like construction — meaning that if it's solid wood, it begins to look like our wood siding and we don't want to take away from the original envelope of the house
that we can use on our indoor stairway as well — both railings are within viewing distance of each other and should be similar
So several options were up for consideration…
Glass, my first choice. And ridiculously, prohibitively expensive. Damn. Definitely my top pick for indoors, as well. Not gonna happen.
Cable railing. Second choice. Much cheaper than glass but still pricey. A very clean look. Zoning regs are very clear on height, necessity of a top rail, distance between cables, etc., so there's no budging on that. We looked at a lot of cable railing systems in order to find ways to cut costs. Basically comes down to quality and endurance, which is why we ultimately decided to have RI Welding make it right for us.
Also considered…
Galvanized steel mesh railing. Would still require the posts and top rail to be built by Rhode Island Welding (unless we went with wood supports and top rail) but the mesh would save us some cash — cable systems are pricey and cable system installation obviously takes longer. In the end, we decided the mesh grid just wasn't something we wanted to repeat inside the house.
Wood. After looking at the cable railing price, we opened ourselves up to the possibilities of wood again… maybe slender, horizontal slats wouldn't be too bad?  or even vertical?…
Something similar might be a good modern choice. But even a railing-height version would interrupt the view and force you to look at the fence. And it just wouldn't work inside the house. So nix that. Cable railing it is!
Designs submitted to Rhode Island Welding. Fabrication in progress. Stay tuned.
THE STAIRS, UNDONE
So, the state of the stairs. The set in front, done except for the final addition of pea gravel…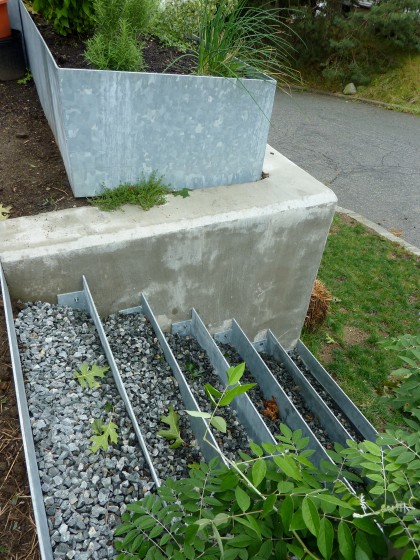 Back stairs? *sigh* Don't ask.
When it's all said and done, they're supposed to look kinda like this…
THE STORAGE AREA, UNDONE
The doors may be done but the insides of the storage closets aren't yet outfitted for storing things. This is our current latching solution…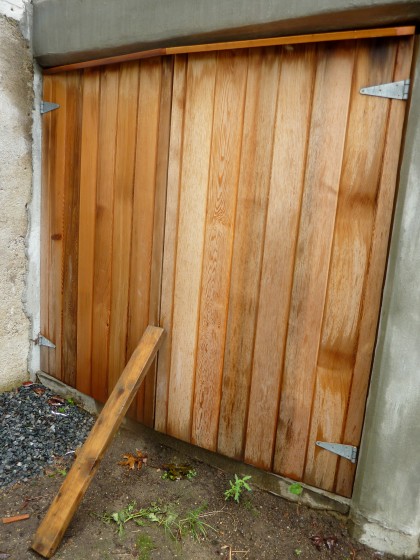 I seek closure. Before winter, please.
THE PATHS, UNDONE
The paths are all dug…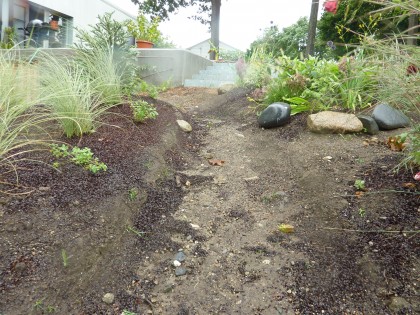 They pretty much look like that, with the dirt washing down the sides of the beds and into the paths every time it rains because none of the plants have grown in enough to hold the soil.
No point in adding pea gravel to the paths until I can solve the constant erosion issue that comes with having a slope. I'll save the details for another post but suffice it to say that standard edging isn't tall enough and gabions look like the right solution.
THE STRAIGHT-RUN EDGING, UNDONE
Close to the house, we still need to turn this…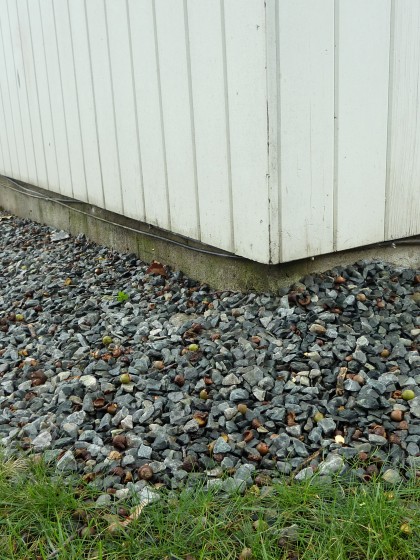 … into this — minus the concrete edging and fabulousness of an iconic modernist house, of course.
And make this…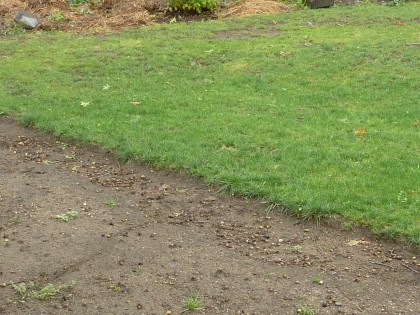 … look a little more like this:
The 2′ buffer around the house needs edging and topping off with beach pebbles. In the past, we've gotten them through Stoneyard in Massachusetts. Their Mexican Beach Pebbles are dark, flat and the classic choice. Their New England pebbles, more irregular and frequently egg-shaped. Blech. In Rhody, Watson Mulch has a nice, small, tumbled pea gravel but their pebbles, not so much.
Have spent an embarrassing amount of time researching edging. Plastic and rubber, yuck. Stone, too pricey, too cottagey. Metal is by far the most minimal. Aluminum looks cheap and insubstantial to me — like it'll crimp if you breathe on it wrong. Yes, have looked at all the brands out there at various price points and don't like any of them. Decided since we have steel in the rest of our hardscape, maybe that's the best choice. I'll save details for another entry but the best contender so far is Border Guard — it even comes in galvanized steel so it would tie in with the rest of our hardscape. Sold.
THE PATIOS, UNDONE
I won't waste your time repeating my patio wishes. Let's just leave it at "it ain't done yet." We did, however, manage to meet with Tom Zilion of Madstone Concrete to discuss what all this vision might cost. He's all about the nuances of finish and color…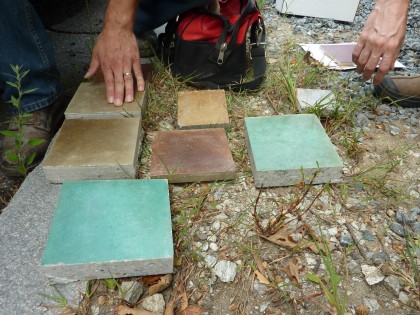 Any color, including black. And yet we find ourselves drawn to the straight-forward grey…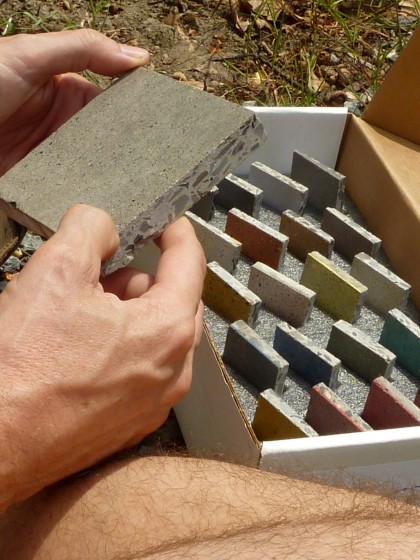 God, we're boring. But it just makes the most sense when you want the house to be the hero, not the patio. Black would look amazing, but it gets hot in the sun. Not ideal for bare kiddie feet. We're still discussing possibilities with Tom. He does beautiful work, so expect to hear more about it.
See what you missed while I was out? Nothing. Just project after project, and all of them Undone.