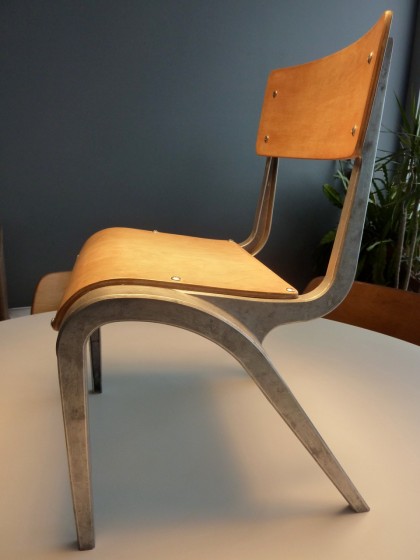 What is it? It's a modernist's vision of the ideal child's chair, that much is obvious. What's not obvious is who made it. There's no maker's mark. Figures. It took a surprising amount of sleuthing to discover this chair's pedigree, but I did it.
Turns out this chair is the work of  James W. Leonard for the Education Supply Association (Esavian Ltd) in the UK. The cast-aluminum alloy frame and bent beech-plywood child's school chair made by Esavian was designed to be stackable. So this is no frou-frou object. It's a utilitarian piece of furniture designed to stand up to rigorous use — and yet it's a thing of beauty.
Where did it come from? I happened across it on eBay a few years back via a seller in upstate New York, not the UK. Once I spotted that slung-back aluminum leg, I was hooked. These chairs are tough to find in the states — believe me, I've tried since lucking across this one. They do, however, turn up upon occasion on ebay.co.uk.
Circa? Post-war. The design dates to 1948.
Interesting tidbit:
There were also adult-sized chairs, some in molded ply and others vinyl covered…
and a gorgeous stacking table that's to die for…
Much to-do has been made about whether Leonard or Jean Prouvé first designed what's come to be termed as the "compass leg." As I understand it — from what I've read — Leonard's design predates Prouvé's by a few years. But what do I know anyway?
Want to see a few other perfect things I've dug up while sifting through our premodel mess? I can show you a vintage aluminum clock we hope to have a place to hang someday and a vintage steel sculpture David's grandfather made that deserves an eventual special spot.