So we haven't talked hardscape in a while. Let's. Remember how I like to dream big? No? Maybe this will refresh your memory…
Not so long ago, I confessed an unrequited love for Corten steel in the garden, like those steps backfilled with gravel. Gawgeous. Minimal. Streamlined. Perfect in a modern landscape. [Shot from above and many more examples on D-Crain's site. And Andrea Cochran's site. And Lutsko Associates' site.]
With visions of steel in my head, I did a little research and learned that Corten lasts a long time in a Mediterranean climate — like in sunny California. Less so in New England with its damp, cold winters. The patina from the corrosion is what makes it appealing. But the rust can bleed onto other surfaces, including our brand-new concrete retaining walls. And burying the steel in the ground speeds up corrosion. So is there a way to make steel last longer, considering the investment?
The answer is hot dip galvanized steel. Hot dip? what the heck is that, you say? The steel is "… immersed in a kettle or vat of molten zinc, resulting in a metallurgically bonded alloy coating that protects the steel from corrosion."
Zinc. Hmm. The American Galvanizers Association claims it's sustainable — the zinc itself is 100% recyclable and the hot dip process protects steel for 50 years. 50 years! That's a long time! That pretty much convinced me hot dip galvanized over Corten. So this is where we'll be using it:
For steel planter boxes in the veggie garden area at the top of the retaining wall that runs along our front driveway…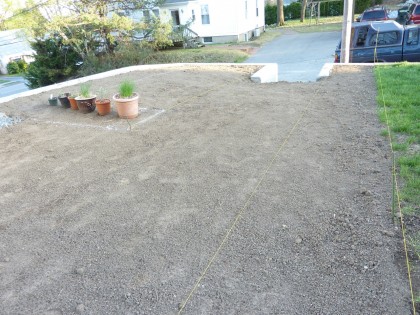 The layout (click to biggify)…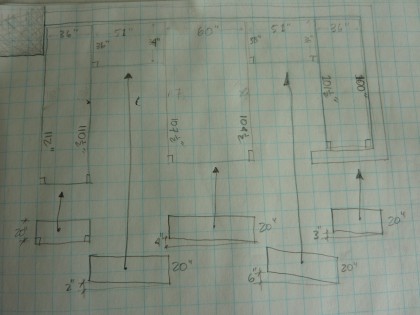 For risers on the steps up to the veggie garden that currently look like this…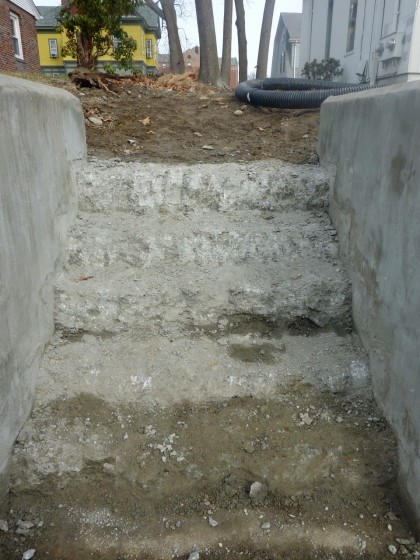 Ugh. The concrete crew just could not get them right. We talked about repouring them ourselves. But then we decided the raised beds would be made of steel and it just seemed easier to make the risers out of the same material and backfill with gravel. So that's the plan…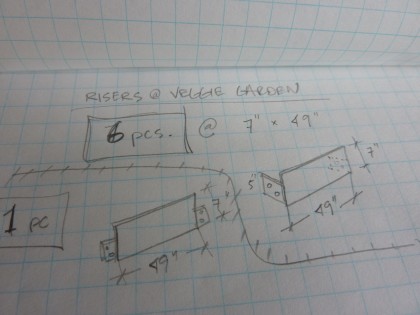 Which is perfect, because out back we want a full set of steel stairs at the end of the other retaining wall. Remember when I drew that?…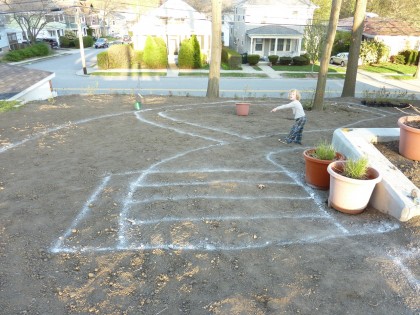 Now imagine the chalklines in steel and backfilled with gravel. Looks nice, doesn't it?
So the drawings went over to Rhode Island Welding a few weeks ago. They constructed the boxes and the stairs and then sent them off to a galvanizer in Massachusetts.
Expect to see the result — soon!