I seldom go shopping these days, much preferring to order from the comfort of Chez Mess when possible. On Christmas Eve, however, I had to dash into the mall, that temple of mass consumption and hideous carpeting. Last-minute stocking stuffers, ya know.
Snagged some cute vintagey card games for the kid at Restoration Hardware…
And then I spotted something interesting over in the corner…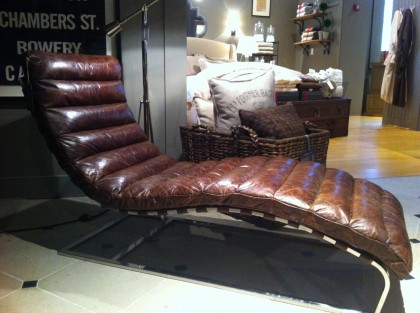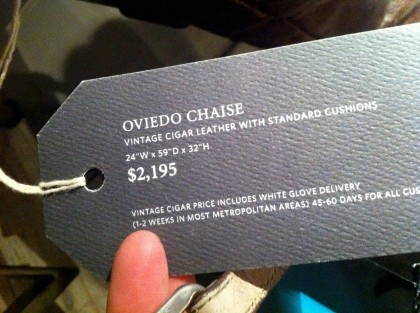 An obvious tribute to Knoll's MR Chaise Lounge, designed by Mies van der Rohe in 1927…
Far from cheap but much more affordable than the original. Have you seen how much the Knoll goes for? A little history on the original, still in production, here.
Then a few feet away from the chaise, I spotted this…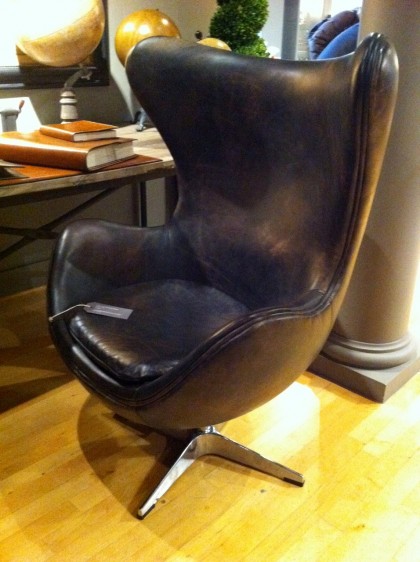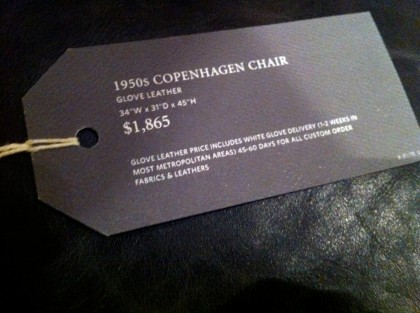 Basically a distressed leather homage to the iconic Egg Chair designed by Arne Jacobsen for Fritz Hansen…
Gorgeous since 1958 and still going strong. If you've ever longed for an Egg of your own, you're probably well aware of what it costs brand-new. If you don't require the original, I suppose Restoration's version isn't too shabby. The leather gives it a men's club/smoking lounge kind of a look. Cuba meets Denmark?
Not the sort of thing I expect to see at Restoration Hardware, although they have added a little midcentury modern into their mostly traditional mix in the last few years. Their Modern Collection of bath hardware is about as minimal as they get. Anyway, just thought I'd share.
Still undecided about reproduction/reinterpretation vs original. I mean, I don't like to think of myself as a total snob, insisting on an original no matter the price. Label hounds can be so irritating. On the other hand, is it asking too much for brands to come up with their own designs rather than profiting from someone else's design? Granted, finding a way to make expensive things for less is the way of the world — it's what makes sites like whiteonwhite so wildly popular. And I suppose Restoration Hardware's whole schtick is "restoring" classic style to home goods. I dunno. What do you think?